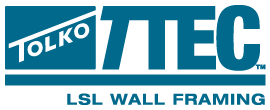 Wall framing creates the overall structure of a home and is the basis for a successful build.
T-TEC LSL Wall Framing and Studs resist twist, warping, and shrinkage. This makes T-TEC LSL the ideal choice for framing areas that require perfectly straight walls such as kitchens, bathrooms, staircases, and tall walls. When you use T-TEC LSL you can be confident that your walls will be consistent and true. Large tiles and cabinets can be installed on T-TEC LSL framed walls without the worry of cracking or shimming that accompanies typical lumber.
Features and Benefits
Uniform dimensions along the entire length of the structural member
Consistent density and moisture content
Available in PET lengths for quick framing
Superior resistance to warping, twisting and shrinkage
Long lengths to accommodate tall wall conditions
Optional Zinc Borate protection
APA mark, APA PR-L284 and ICC-ESR-2725
Transferable 50-year warranty
Available Sizes
Thickness: 1-1/2", 1-3/4"
Depths: 3-1/2", 5-1/2", 7-1/4", 9-1/4"
Lengths: 8', 10', 12', 14', 16', 18', 20', 22', 24'
E-Rating: 1.35E
Warranty
Backed by a transferable, 50-year limited warranty.