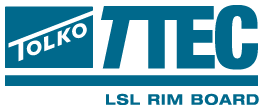 Rim board fills the space between the sill plate and the bottom wall plate, or between the top plate and the bottom plate in multi-floor construction, filling the void to add an integral structural component that transfers both lateral and vertical forces.
T-TEC LSL Rim Board is preferred by builders because it's a highly predictable and uniform engineered wood sawn to consistent sizes and resistant to warping and splitting.
Build Better with T-TEC LSL
We designed T-TEC LSL Rim Board to be compatible with the new generation of engineered wood I-joists. Our continuous press at our T-TEC LSL facility manufactures LSL that's more uniform along its length, with fewer voids and a better surface-quality than sawn lumber.
With a blue coloured bundle seal to protect it from the elements, and with Zinc Borate protection as an option to protect from fungal decay and insects, T-TEC is highly durable. To make sure it reaches you in the same state it left our factory, we take care in packaging our rim board, using our new tear-resistant, woven-poly bags.
To meet green building standards, there's no added urea formaldehyde (NAUF) in our rim board.
Specifications
Thickness Categories: 1-1/4", 1-1/2"
Depths: 9-1/2", 11-7/8", 14", 16", 18", 20", 22", 24"
Lengths: 16', 24'
E-Rating: 1.35E, 1.55E
Warranty
Backed by a transferable, 50-year limited warranty.