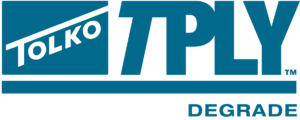 Take advantage of an economically priced panel for your next non-structural project. T-PLY Degrade is highly versatile and as a mill certified product, quality is not compromised. Panels deemed to be less than 100% useable due to manufacturing defects (such as core voids, overlaps, and core gaps) are put into our Degrade category and sold for non-structural applications.
Square Panels. Minor imperfections. No delamination.
Features and Benefits
Product Application: Non-structural.
Quality Materials: Our T-PLY Degrade is a mill certified panel produced with the same high quality spruce and fir wood fibres and resin used in our structurally certified APA panels.
APA Certified: T-PLY products are structurally certified to PS-1 plywood standards.
Low Formaldehyde N.A.U.F.: Less than 0.01 ppm using ASTM large chamber method.
Applications: T-PLY Degrade is well suited for crating, packaging, agricultural, manufacturing, shipping, and other non-structural applications.
Sustainability: T-PLY products come from sustainably managed forests - PEFC Chain of Custody.
Packaging: Bagging optional.
Available Sizes
Metric
Thickness Categories: 7.5mm, 9.5mm, 12.5mm, 15.5mm, 18.5mm, 25.5mm
Length: 2440mm
Width: 1220mm
Imperial
Thickness Categories: 5/16", 3/8", 1/2", 5/8", 3/4", 1"
Length: 8'
Width: 4'
Grades
PTSD: Plug and Touched Sanded Degrade
Degrade