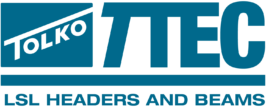 T-TEC LSL Headers
T-TEC LSL Headers are engineered for performance and consistency, resulting in dimensionally stable window and door openings. T-TEC LSL Headers remain straight over time, eliminating problems of cracked drywall and loose nails.
T-TEC LSL Beams
T-TEC LSL Beams are designed to accommodate larger holes and multiple holes without compromising the structural integrity of the product. Produced with a continuous press, these beams accommodate longer spans saving time and money for builders. Trades prefer T-TEC LSL Beams because of the ability to go through the beams rather than around, saving both time and materials.
Features and Benefits
Designed to work with other engineered components in flush applications
Uniformity along the entire length with fewer voids and a better surface quality than sawn lumber
Consistency in thickness, density, and moisture content
Superior resistance to warping and twisting
Long lengths to accommodate open concept areas and longer spans
Protection from the elements on a job-site with a blue coloured bundle seal
Optional Zinc Borate protection
Transferable 50-year warranty
Available Sizes
Thickness Categories: 1-1/2", 1-3/4", 3-1/2"
Depths: 5-1/2", 7-1/4", 9-1/2", 11-7/8", 14", 16"
Lengths: 12', 16', 24'
E-Rating: 1.35E
Warranty
Backed by a transferable, 50-year limited warranty.