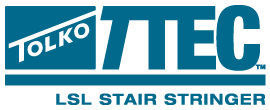 The stair stringer is the structural component that supports the treads and risers in your staircase.
It is responsible for the structural strength and stability of the staircase and is an integral part of the system. T-TEC LSL stair stringers are made with laminated strand lumber (LSL) and therefore provide true consistency and uniformity.
Features and Benefits
Longer Lengths: Accommodate extended staircases without limitations
Quality: Superior resistance to warping and twisting
Bundle Seal: Protection from the elements on a job-site with a blue coloured bundle seal
Consistency: The continuous press at our T-TEC LSL facility manufactures LSL that is consistent along the entire length of the board
Uniformity: Fewer voids and a better surface quality than sawn lumber
Zinc Borate protection: Optional added protection from fungal decay and insects
Air quality: No added urea formaldehyde (NAUF) to meet green building standards
Improved packaging: Packaged in new tear-resistant, woven-poly bags for improved protection during shipping
Available Sizes
Thickness: 1-1/4"
Depths: 9-1/2", 11-7/8", 14"
Lengths: up to 24'
E-Rating: 1.35E
Warranty
Backed by a transferable, 50-year limited warranty.