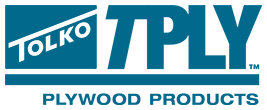 T-PLY Pro Premium Select Square Edge
When building a high-quality product, using the proper material makes all the difference. You can trust the Tolko name and our commitment to our customers to deliver panels that will stand up to any job you have for your cargo trailer.
Consistent quality
T-PLY plywood products offer cargo trailer manufacturers rugged, consistent cores and superior surfaces with enhanced fastener holding strength. Beyond creating durable panels tough enough for any job, the face of T-PLY Pro Premium Select Square Edge gives the interior walls of each cargo trailer a smooth and bright finish.
With T-PLY plywood, manufacturers can be confident they have material that won't let them, or their customers, down.
| | T-PLY Premium Select Square Edge |
| --- | --- |
| Grade | Fir Premium Select/CCPTS |
| Application | Cargo trailer walls and floors |
| Profile | Square Edge |
| Sanding and Face | Precision Sanded, Premium Select Grade Face, C Grade Back |
| Thickness Category | 3/8", 1/2", 5/8", 3/4", 1" |
| Lengths | 8' |
| Widths | 4' |