Southern Yellow Pine Lumber is one of the most versatile species of lumber.
Through Tolko's partnerships in the Southern United States, we are pleased to offer Southern Yellow Pine dimensional lumber and specialty products to our customers.
A family-led partnership
We're a company built on family values, so it makes sense we would join together with folks who share the same kind of principles. These joint-ventures give our customers an even greater, higher quality selection of southern yellow pine lumber products.

LaSalle Lumber Company LLC, a Hunt-Tolko Partnership
Partnering with family-owned Hunt Forest Products, we've created LaSalle Lumber Company LLC. This union has resulted in the opening of a brand-new, 200 million-board foot facility which produces dimension lumber and features three continuous dry kilns and a planer facility.
LaSalle Lumber Company: Dimension Lumber Specifications
| Size (in.) | Length | Grade |
| --- | --- | --- |
| 2x4, 2x6, 2x8 | 2 - 6' | NGS #3 & BTR HT stamped |
| 2x4, 2x6, 2x8 | 8 - 20' | #4, #3, #2 Prime, #1, #1 Prime |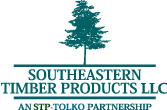 Southeastern Timber Products
Tolko and STP operate the Southeastern Timber Products mill in Mississippi, which produces dimension lumber, timbers, and specialty products. The announced investment into this mill will bring it from a 100 million-board foot facility to a 300 million-board foot facility.
Southeastern Timber Products: Dimension Lumber Specifications
Size (in.)
Grade
1x4High Level
#3 & BTR
5/4 x 6
Premium, Standard, 3-4 mix
3x4, 2x4, 2x6, 2x8, 2x10, 3x6, 4x4, 4x6
#1, #2, #3, #4
2x4, 2x6, 2x8 DSS
#1, #2, #3, #4
4x5-1/2
#3 & BTR, #4
All products available in 8-20' lengths