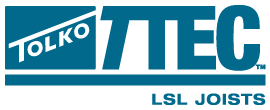 Your floor and roof joists provide the backbone for your building.
They are responsible for transferring loads and creating the overall stiffness and strength of the structure. T-TEC LSL joists are made with laminated strand lumber (LSL) and therefore provide true consistency and uniformity.
Features and Benefits
Long Lengths: Accommodate open concept areas and longer spans with our T-TEC LSL produced with a continuous press
Quality: Superior resistance to warping and twisting resulting in quieter floors
Bundle Seal: Protection from the elements on a job-site with a blue coloured bundle seal
Consistency: The continuous press at our T-TEC LSL facility manufactures LSL that is consistent along the entire length of the board
Uniformity: Fewer voids and a better surface quality than sawn lumber
Zinc Borate protection: Optional added protection from fungal decay and insects
Air quality: No added urea formaldehyde (NAUF) to meet green building standards
Improved packaging: Packaged in new tear-resistant, woven-poly bags for improved protection during shipping
Available Sizes
Thickness Categories: 1-1/2"
Depths: 9-1/2", 11-7/8", 14", 16"
Lengths: 12', 14', 16', 18', 20', 22', 24'
E-Rating: 1.35E
Warranty
Backed by a transferable, 50-year limited warranty.