Sari Cox, Maintenance Planner/Supervisor
In our last installment, you met Rhys, our accountant turned logistics guru. Today you'll meet Sari Cox, who began her career implementing JD Edwards and now serves as a Maintenance Planner/Supervisor at our Heffley Creek division.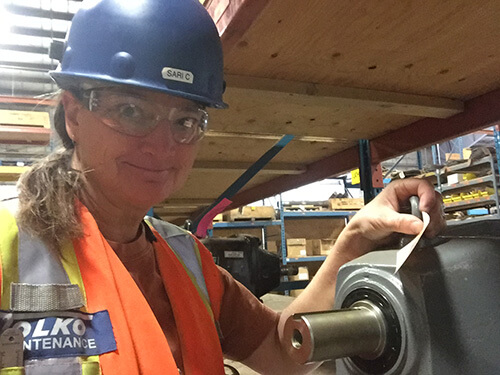 "My first exposure to the forest industry was as a drop sort operator at a sawmill in Northern BC," she says. "Following a stint in school, studying construction management, I found myself back in the forest sector working as a construction project coordinator and estimator for sawmill electrical and controls. From there I moved to a sawmill equipment manufacturing company where I was able to grow my knowledge of mechanical equipment and parts. During the economic downturn, I stepped away from the industry and returned to my roots in building construction, working as a Mechanical Project Manager for projects at UBC Okanagan. During that time, I became the first woman in BC to earn the Gold Seal Project Manager Mechanical Certification from the Canadian Construction Association. Once my projects were wrapped up, in February 2014, I accepted a position on the Tolko CMMS team and since then I have been helping build the database of parts, equipment bills of material and model work orders. I have now moved into Maintenance Planning and Supervision at Heffley Creek."
Sari is an accomplished woman in and out of the industry. What does she enjoy most about her job with Tolko?
"The best thing about working at Tolko is the people," she says. "The crew here at Heffley is motivated to make things safer and better, and we do it by recognizing and drawing upon each other's strengths. Every day, I work with other members of the maintenance department to fix, maintain, and improve the mill's production equipment so that it runs as safely and efficiently as possible. We do this by responding to safety concerns, implementing preventative maintenance monitoring, and by issuing corrective work orders for planned downtime. My role involves communicating with production, maintenance and purchasing to ensure that all issues are addressed in a timely manner. It's a fantastic opportunity and I enjoy every day."
What are her words of wisdom for anyone looking to build a career with the company?
Sari says she "would encourage anyone who is considering employment at Tolko to look at all of their past experience to see what strengths they have gained because sometimes a diverse history contains a winning combination of skills and attitude. Tolko also offers opportunities for personal and professional growth within the company where a person can move those skills forward into an interesting career."
Sari is just getting started. She sees there are many improvements still to be made in the planning procedures at Heffley Creek and enjoys the challenge of working with her crew to problem-solve and push the mill forward.
"I have a crew that I enjoy working with every day, I respect them and that is awesome," she says. "I am passionate about continuous improvement and the power of people to enact positive change. In the future, I aspire to work with other divisions in our region to open up communication and streamline maintenance procedures."
Stayed tuned for our next interesting career featuring Dustin Douillard, a Registered Professional Forester and Harvesting Superintendent in Okanagan Woodlands group.