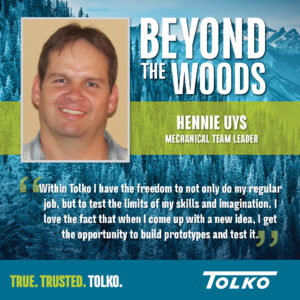 Did you know a lot of jobs within the forestry industry are highly specialized? At Tolko, we employ individuals with specialized skill sets in all our departments from Woodlands, to Corporate, to Operations.  We rely on these skills to produce high quality products for customers around the world.  So, for this edition of Beyond the Woods, we're taking you deep into the skills behind our Oriented Strand Board (OSB) production with one of our Mechanical Team Leaders, Hennie Uys from our Athabasca Division.
"As a Mechanical Team Leader, I'm accountable for the safety, organization, and supervision of the mechanical maintenance personnel with the objective of maximizing equipment availability, reliability, and uptime at minimum cost.  I also focus on continuous improvement initiatives to optimize maintenance functions. I am responsible for the Finishing End and the Rip Line."
"The most challenging aspect of the position is ensuring established production levels are achieved within acceptable safety, budget cost and machine centre uptime goals, to ensure the plant is maintained to a high degree of efficiency."
There's no question that Hennie's position is integral to Athabasca Division's operation. If you're interested in a similar career with Tolko, we are currently recruiting for Mechanical Team Leaders at our High Prairie and Meadow Lake operations. Applications can be submitted online at www.tolko.com/careers.
As a self-described "tech geek" with a passion for additive manufacturing, 3D printing in particular, Hennie is an asset to our team.  So, what does a Mechanical Team Leader due in their spare time? Hennie says, "I like to design new parts and produce them using my 3D printer. I've been exploring applications of 3D printed parts within the manufacturing environment. I have produced numerous parts in the food industry and have started producing parts within the lumber industry. Although the application in heavy industry is not common, I focus on producing low-cost prototypes which can be tested and manufactured from more exotic/expensive materials."
Pretty cool right?! But why has Hennie chosen to bring his talent to the Forestry industry?
"After 20 years in the Steel and Stainless-steel industry I moved to Canada to explore the Canadian landscapes and broaden my horizons. I wanted to build wood frame homes in Canada. While I explored my options, I came across an ad posted by Tolko. I was intrigued to find out more after I looked at the history of Tolko and the values they live by. I knew nothing about making OSB but the opportunity to learn and explore overwhelmed me and I could not stay away."
It's a big decision to move to a new country and enter a new industry and we're honored that Hennie decided to join Tolko! And what does Hennie like about working for Tolko? When we asked, he said, "Within Tolko I have the freedom to not only do my regular job, but to test the limits of my skills and imagination. I love the fact that when I come up with a new idea, I get the opportunity to build prototypes and test it. I was also involved in the final commissioning of the Rip Line. Troubleshooting and solving problems are some of the tasks that I enjoy the most. There is no shortage of challenges to overcome on Tolko sites, I love thinking out of the box and challenging the status quo."
Progressiveness is one of values at Tolko, and innovators like Hennie really help make our Company a leader in the forestry industry.  We can't wait to see what he comes up with next!
If you want to learn more about positions in our operations or Tolko in general, let us know on one of our social media channels.
Follow us on social media or check our company news for more Beyond the Woods profiles coming soon.