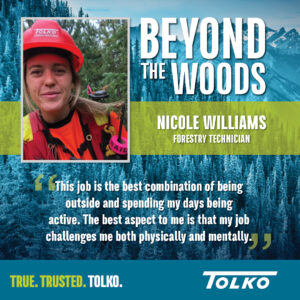 Positions in Tolko's Woodlands department offer exciting opportunities for employees to be out in the field managing forests in a sustainable way that respects the environment and cultural connections. These roles are vital to our operation, but what is it like to work in Woodlands? In this edition of Beyond the Woods, we asked one of our Woodlands employees to walk you through the day in the life of a Forestry Technician.
Meet Nicole Williams, Forestry Technician with our Southern Interior Woodlands Division. So, what's a typical day like for Nicole?
"I begin most days by loading up a work truck with my gear, my dog Fisher, and maps of the area I will be working in. I travel along forest service roads until I reach my destination. From here, I strap on my boots and begin hiking. As I'm hiking, I'm assessing quality of timber and feasibility of extracting that timber from the land base. Once I have determined an area that is suitable for harvest, I use a GPS unit and ribbon to mark the exact cut block shape, road locations, streams, and internal wildlife tree patches. Stream assessments, plant species identification, soil typing, natural regeneration status, and timber quality and quantity are just a few of the features that I collect data on within my work areas. Field duties generally include reconnaissance work, block layout, and timber cruising. I work in rain, snow, sunshine, blue skies, and everything in between. Some weeks we need ATVs to access our work areas and others we need snowmobiles. For days when I am in the office, I am completing site plans, operational plans, visual assessments, road instructions, cruise data compilations, and more. I consolidate my work from the field and create documentation that is then used by other foresters in the office."
Awesome right? Nicole's position is not only critical for Tolko's operations — it also offers a great mix between field and office work. If you're interested in a similar career with Tolko, we are currently recruiting for Forestry Technicians and General Forest Workers for our Southern Interior Woodlands team. Applications can be submitted online at www.tolko.com/careers.
What attracted Nicole to become a Forest Technician in the first place?
"I have a big love for the outdoors and have always gravitated to jobs where I am either outside, moving my body, or both. My mom and dad both work in the forest industry and when they described the position of a Forest Technician to me, I was hooked. This job is the best combination of being outside and spending my days being active. The best aspect to me is that my job challenges me both physically and mentally. I determine the best way for the appropriate equipment to extract the wood and then display that vision through my work. I like how there are so many moving pieces to the forest industry. There is always something new to learn or better understand. Everything comes full circle, and learning more about other areas such as harvesting, silviculture, mill operations, and even markets allows me to better do my job."
When we asked Nicole why she chose to grow her career with Tolko, she said, "Working for Tolko has been an amazing experience for me. One thing that stands out through my time here is that there is always opportunity to grow if you're keen and vocal about your desires. There always seems to be new areas to gain experience in, whether it be out in the field or within the office. An example of this is days when we complete field tours with professionals such as geotechnical engineers, biologists, harvesting supervisors, road builders, and more to receive hands on feedback on blocks we have worked in. Days like this allow me to not only learn about the different careers within the company but helps me to improve my work and abilities as a technician."
She adds, "I spend every day breathing in fresh air, hiking in the wilderness, and splitting half my lunch with my dog while looking out at whatever beautiful view we have stumbled upon that day. I don't think it gets much better. I think most people have worked a job or two that made them hate getting out of bed in the morning. I can say with confidence that this job is not one of them."
Passionate employees like Nicole contribute firsthand to our success. And the work done by our Woodlands employees ensures Tolko's longevity in the forestry industry. We're honored to have such talented employees like Nicole, who come to work excited every day!
If you want to learn more about positions in our operations or Tolko in general, let us know on one of our social media channels.
Follow us on social media or check our company news for more "Beyond the Woods" profiles coming soon.