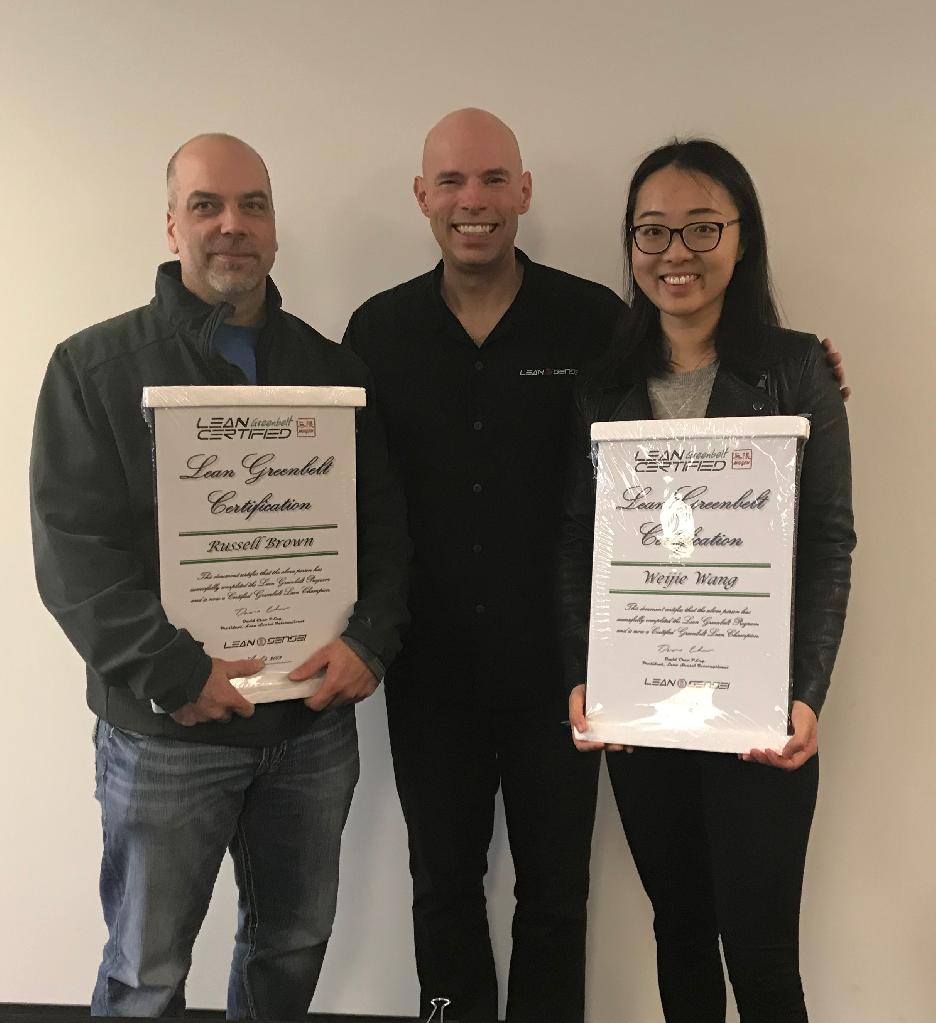 Tolko's own Weijie Wang and Russell Brown have recently graduated from Lean Sensei's Greenbelt training program, held in Vancouver, BC. Special kudos to Weijie for achieving gold medalist standing as a top contender in their class of 16 students!
The Lean Greenbelt program is an internationally recognized designation in manufacturing excellence and focuses on continuous improvement and process improvement standards.
Weijie, a Quality Improvement Coordinator from Armstrong Division also found the program interesting and applicable to her work. "It's absolutely eye-opening to practice lean tools and techniques in three different organizations with participants from all over the industry," says Weijie. "The in-class learning and real-life practice helped me develop and anchor the lean mindset and effective presentation skills."
Russell, a Sawmill Supervisor from Soda Creek Division says that he found the intensive program challenging and worthwhile. "It's a terrific program, with fantastic instructors and relevant content that will help me to continually strive to improve and streamline processes at work and at home," says Russ.
To earn the Greenbelt, participants execute improvement projects with manufacturing host companies and Tolko operations. Throughout the course, students are coached to improve their performance as team leaders and project result. To graduate they complete a final exam and give a presentation to their class of peers. Most importantly, a Green Belt is empowered with the skills they need to go back to their site and coach others in the Lean Sensei Green Belt environment.
Across our Lumber, Plywood, and OSB product groups, we've graduated more than 20 Tolko Greenbelts in the last five years, including Continuous Improvement Advisor Dianna Embleton.
"Participants of the Greenbelt course jump right into facilitating live sessions in a manufacturing facility very different from our own," says Dianna. "Working in a safe environment with so many unknown variables, both people and processes, is a great way to learn. Students facilitate team discussions to breakdown a problem, identify opportunities and develop solutions with people from many different areas of expertise. Personally, the experience demonstrated the value of setting clear expectations for group discussions and taking the time to explore different perspectives."
Congratulations Russ and Weijie!
For more information on the Lean Sensei program, visit www.leansensei.com.