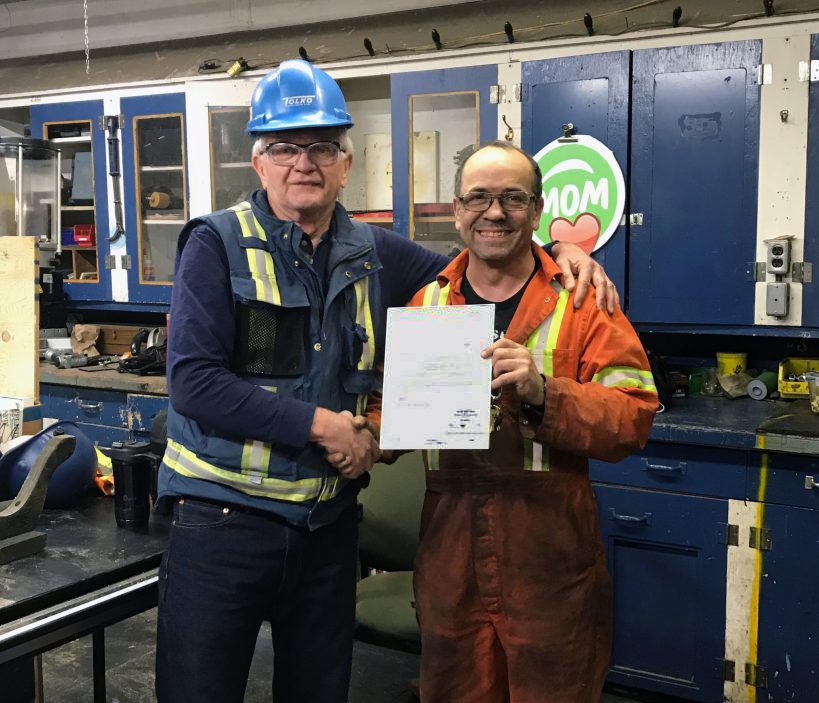 Tolko's Kelowna Division has added another successful Journeyman Millwright to their team!
Mike Cowan has been employed with Tolko since March 1998 and joined Kelowna Division back in 2000. After four years of dedication and hard work, Mike was awarded his Journeyman Millwright certification last November.
Mike says, "I'm so happy to have received my Journeyman certificate. It's been challenging but also very rewarding."
The Apprenticeship program, which is offered through the British Columbia Institute of Technology (BCIT) is a rigorous and demanding program. For the last four years, Mike worked under the supervision of Carl Thesen, Maintenance Supervisor at Kelowna Division to ensure that he met all the required hours and competency milestones he needed to qualify for his certification.
Carl says, "I'm very proud of what Mike has accomplished. He's very dedicated and diligent, and the fact that he excelled in this Apprenticeship program isn't surprising. It's a great program."
Above photo, L to R: Maintenance Supervisor Carl Thesen and Journeyman Millwright Mike Cowan