Tolko's core values are a foundation for a strong and vibrant workforce that serves to improve the morale and productivity of the company as a whole. Employees who adopt these values as their own help create a healthy, productive, and profitable work environment. Here are the first three of the twelve remarkable employees who were awarded Tolko's 2019 Values Award for consistently demonstrating Tolko's values of Safety, Respect, Progressiveness, Integrity, Open Communication, and Profit.
Bill Drebit, Millwright, Soda Creek Division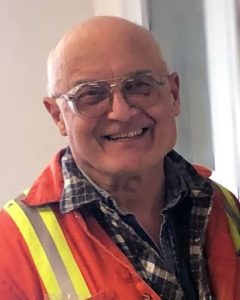 Bill Drebit is a remarkable employee. First, there's the fact that he has worked for Tolko for 50 years as both a Millwright and a chargehand. Second, his safety record is impeccable: zero recordable injuries during his entire career with Tolko! Third, Bill has always been passionate about safety and helping others succeed.
Over the years, Bill has earned the respect of everyone he works with. He has coached and mentored over 300 maintenance personnel and has been a driving force in developing machinery modifications and enhancements at the mill.
"Treating people with respect is so important," says Bill. "I enjoy passing my knowledge on to others and teaching them to take responsibility for their own safety and the safety of others."
According to Plant Manager, Mike Dextrase, Bill is a natural leader who others look to for advice, knowledge, and suggestions for improvement.
"Anyone who has had the pleasure of working with Bill knows that living Tolko's values comes naturally to him," says Mike. "His co-workers are inspired by his work ethic and his dedication to finding ways of doing things better – ideas and improvements that benefit the team and our Division."
Jim Mork, Maintenance Superintendent, SC Maintenance adds, "Bill's responsibility and ownership to the mill are exemplary. He is always available to help with the mill, no matter what day or what time. We also admire his ability to creatively turn concepts into reality."
After 50 great years with Tolko, Bill retired on Friday, March 13, 2020. Congratulations Bill for your remarkable achievements, on your retirement, and for your commitment to living Tolko's values in everything you do! 
Annette Fensom, Payroll Administrator – Heffley Creek Division
Annette Fensom, a Payroll Administrator with our Heffley Creek Division, has been with Tolko for 41 years. When asked how she demonstrates Tolko's values every day, she says that she has worked hard to build strong professional relationships with her co-workers and managers based on trust and respect. She believes that living Tolko's values every day at work and at home means that you consistently demonstrate that you're trustworthy, reliable, respectful to others, and open to feedback.
"I feel that in order to succeed in life, it's also important to keep the lines of communication open, be adaptable to change, and stay true to your word," says Annette.
Annette, who joined Tolko in 1979, has seen her fair share of "ups and downs" in the forestry industry.
"I've seen the industry go through many changes and experienced the good times and the more challenging times," says Annette. "I've been involved with rolling out four new payroll systems since I started, so yes, it's very important to be able to adapt to change, keep a positive outlook, and work together as a team towards a common goal."
A proud grandmother of three, Annette is looking forward to retiring later this year and being able to spend more time with family. Thank you, Annette, for the great job you do every day and congratulations on your upcoming retirement!
Roderick Quilty, Area Lead, Rip Line – Meadow Lake Division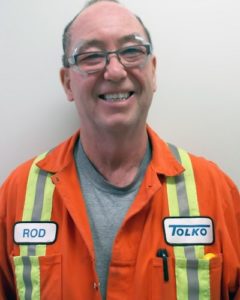 Rod Quilty has worked for Tolko since November 2009, and in the role of Area Lead, Rip Line with Meadow Lake Division for about a year and a half. During that time, his manager and co-workers can attest to Rod's steadfast commitment to living Tolko's values both at work and at home.
Rod feels that Tolko's values "permeate every part of my life in some capacity."
"When I'm at work, my aim is to provide a solid example to my co-workers on how to maintain open communication, show respect for others, and look for innovative ways to improve operational efficiencies for the company without sacrificing safety," says Rod.
At home, these values help him provide for his family by creating a solid family life that his children and grandchildren can rely on.
"I am always trying to make life easier for the ones I love, so having a sense of integrity and reliability is immensely important to me," says Rod. "Having an open-minded and progressive mindset allows me to be more flexible, which I think makes me a better person overall."
Rod believes that everyone at Tolko should incorporate these six important values into their work and private lives. He says, "I believe that living the Tolko values will improve an employee's performance at work and help create stronger interpersonal relationships with co-workers, peers, family, and friends."
Thank you, Rod, for your commitment to living Tolko's values every day and for the amazing work you do!