As we wrap up National Volunteer Week, we'd like to introduce you to two more amazing Tolko volunteers – Jacob Matula and Jenny Ehman. Jacob and Jenny, who are both based out of Tolko's High Prairie Division, have been volunteering for the High Prairie Fire Department for seven years and a year and a half respectively. We recently asked them why they chose to volunteer for the local fire department and what they enjoy most about it.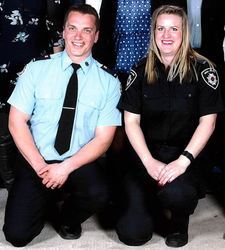 CC: What made you decide to become a volunteer firefighter? 
JACOB: My brother was an active member and had always encouraged me to join. He finally convinced me to come to a practice session because they needed patients for a room search and patient recovery exercise, and from that day on I was hooked. They let me put some gear on and try a recovery for myself and from that moment on, I knew it was something I wanted to pursue.
JENNY: I desperately missed fighting fires and I wanted to get more involved in my community, so I thought this was the perfect fit.
CC: What is the most rewarding part of being a volunteer firefighter?
JACOB: The most rewarding part of it would be when my training enables me to help those are in need. When you're a volunteer firefighter, people tend to look at you in a different light; they hold your knowledge and skills in high regards. During the Slave Lake fire, my team and I were on the job ready to help. One day we stopped for a quick break and a drink of water. I was talking with other paid departments, and one guy mentioned "man this is hard work!". We both had a chuckle and I replied, "try doing this for free!" We both laughed but it really hit home that we're all there to help in some way, no matter the situation or that we're looking for a reward. We help because it's what we are trained to do. It's a memory that I hold dear.
JENNY: Being a volunteer firefighter has strengthened my work ethic, improved my leadership skills, and challenged me to be a better person. My heart is filled when I can help the citizens of my community during a time of crisis. I may not always be able to make it to the practice sessions, but every time I walk through the doors of the hall I'm fuelled with passion and drive to do and be better.
CC: What would you say or recommend to anyone else interested in becoming a volunteer firefighter?
JACOB: I mention to new recruits or people who are new to the department that you won't be part of any better family than a volunteer fire service. You'll belong to a great group of men and women who all work together for one cause – to help those is need when they need it the most.
JENNY: If you are looking to give back to your community in a purely selfless and humble way, while developing friendships, camaraderie, bettering your fitness, all while learning very practical skills: then join the fire department. Also, I want to thank all my fellow firefighters who so willingly give their time and effort to help others in need.
About National Volunteer Week
National Volunteer Week (NVW) is a time to celebrate and thank Canada's 12.7 million volunteers. Join Volunteer Canada and Investors Group April 15-21, 2018 to recognize the contributions of volunteers in our communities. This year's theme is: "Celebrate the Value of Volunteering – building confidence, competence, connections and community".
This week, we're recognizing several of our Tolko employees for the amazing and selfless volunteer work they do in their communities. Volunteers give their time, skills, experience, and passion to help others, without expecting anything in return. And while volunteering is a form of service, many volunteers will tell you that "you get more than you give". The magic of volunteering is that it creates social and economic value for all.