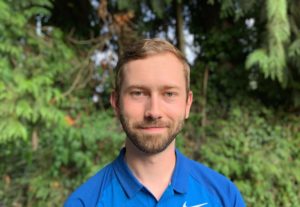 Each year, Canadian Forest Industries is proud to highlight 10 men and women under 40 who exemplify the best of Canada's forest industry. Their eighth annual Top 10 under 40 awards consist of inspiring young men and women who represent every aspect of the forest sector, and love what they do.
We are pleased to announce that Brett Erickson, Control Systems Specialist with Tolko's High Level Division has been selected as one of CFI's 2020 Top 10 under 40 winners!
Although Brett has been with Tolko High Level since September 2017, he began his career with us a few years earlier as a co-op student pursuing a Bachelor's of Science degree in Mechatronic Systems Engineering at Simon Fraser University. He enjoyed his 20-month engineering co-op placement so much that he decided to stay after graduation!
On any given day, you'll see Brett troubleshooting issues with equipment, configuring devices, maintaining process software, and improving the site's control system infrastructure. He enjoys the fast-paced, technically complex nature of his work and says he's fortunate to learn from and work within a team of bright people who he would also consider friends.
"I appreciate the recognition and feel reassured that I'm helping make a positive impact!", says Brett.
Brett, who continues to help drive technological advancements in the mill's diagnostic systems was also the recipient of Tolko's Innovation Award in 2019. Congratulations Brett on your achievement, well done!
You can read the CFI's feature on Brett here.