What do you do when super warm, well-made, coats no longer meet internal safety regulations? Well, for Kelly Brander it was a pretty easy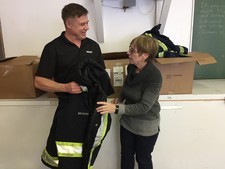 decision – you take them to the people who need them most.
When MLOSB raised their safety standards to a higher level and deemed the coats inappropriate for use, Kelly knew he had a choice. Let the top-quality, industrial-made coats (normally used by keep MLOSB employees warm during the coldest of Meadow Lake cold snaps) sit on a shelf or take them to local charity Door of Hope and provide warm winter wear for those less fortunate in the community.
For Kelly, it was a no-brainer, and Door of Hope couldn't be happier!
Unita Easu, Door of Hope Manager tried on one of the coats and fell in love. She knows they will bring relief for those in need. "We need warm coats so badly right now and these are beautiful. When people come through the door, we do a complete scan and provide toques, mitts, and warm coats. It is really important for those who do not have a warm place to have a warm winter coat."
Kelly and the Meadow Lake team couldn't be prouder. "Sometimes organizations are reluctant to donate used coats, but we feel proud. We know that when we see a former Meadow Lake OSB coat we have helped someone who needs it the most in our community."
Kudos to the team in Meadow Lake! Warm hearts + helping hands = great employees!