Welcome to National Forest Week: Sept. 19-25, 2021!
Forests are integral to our ecosystem, our livelihood, and to the cultures of the people who live in and around them. Tolko is committed to managing these forests in a sustainable way that respects the environment and cultural connections.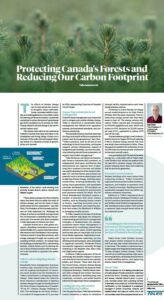 In Canada, we operate in three of the western provinces – British Columbia, Alberta, and Saskatchewan – managing government tenures and purchasing logs on the open market. For every hectare of forest we manage, we accept a responsibility to the people and communities where we operate, the sustainability of our forests, and the economics of our business.
To meet these responsibilities, our Woodlands Teams are held to the highest standard in planning forest management. They develop comprehensive plans guided by our Sustainable Forest Initiatives (SFI) forest certification, along with Federal, Provincial and local principles. These plans are then subject to extensive review involving Indigenous peoples and stakeholders in our communities. This is the key to success in managing our forests.
Tolko is helping shape the collective forest industry's commitment in fighting climate change through the development of the Forest Product Association of Canada's "30 by 30" Climate Change Challenge. The challenge for the forest industry is to remove 30 megatonnes of CO2 per year by 2030, representing 13% of Canada's overall target. For more information on FPAC's "30 by 30" Climate Change Challenge, visit: www.fpac.ca/sustainable-forestry/30by30.
Did you know?
Tolko's renewable energy systems provide 77% of the heating and drying energy needs of our manufacturing processes. (Tolko)
A typical 2,500 square foot wood-frame home is estimated to have 30 metric tonnes of carbon stored in it, which is the equivalent of driving your car for seven years. (COFI.org)
Less than 0.2% of Canada's total forests are harvested each year, and by law these areas must be replanted after harvesting. (NRCAN, 2018)
That 100% of Tolko's harvested areas are regenerated after just five growing seasons. (Tolko 2019 SFI Report)