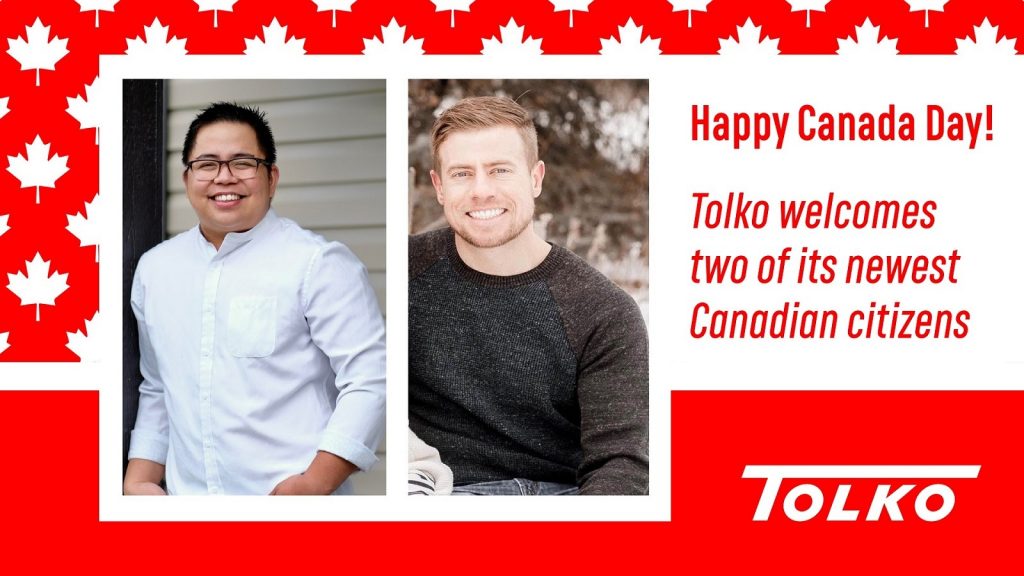 If you asked 100 Canadians what being a Canadian means to them, you'd probably get 100 different answers. But it's safe to say that we are probably among the most fortunate people in the world to live in an amazing country with so much going for it. For many of us, our shared experience of being a Canadian – whether we're born here or elsewhere – provides us with a genuine sense of pride and a special bond that unites us in our quest for a better life for ourselves, our family and friends, and others in our community.
We're pleased to share a couple of Tolko success stories with you. Meet Gary (pictured left), a Relief Kiln Attendant/Planer Production employee from Williams Lake, BC and Augustine (Gus, pictured right), a Maintenance Planner from Meadow Lake, SK. These gentlemen have been with Tolko for two and three years respectively and are also on track to becoming Canadian citizens within a year or less. We asked Gary and Gus to share their thoughts on what becoming a Canadian means to them, and why they chose Canada.
CC: Why did you choose to immigrate to Canada?
Gary: It was always my dream to work abroad because it is a great opportunity for me to help my family. Canada is known for its unique culture and many opportunities for those who dream of coming here. Canada's health care system and having benefits for my family is another reason why I chose Canada.
Gus: My wife is Canadian. We met and lived in Australia together, but after a number of years living there my wife's desire to be closer to home brought us here.
CC: What does becoming a Canadian citizen mean to you?
Gary: I will be very proud to be a Canadian! One thing I appreciate about Canada is that Canadians stand up for what's right and what they believe in. People are friendly and appreciative. They work hard to keep the environment clean and safe to live. I feel very happy and grateful to live here. It's quickly become my home, my country! I'm looking forward to more opportunities not only for myself but especially for my entire family. For me, this means the ability to put my training as a 4th Class Power Engineer to good use and excel in this endeavour. For my wife to see her enjoying her work while being a great mom to our kids. Most importantly, I want my children to have a better future and be able to enjoy the life that Canada can offer.
Gus: Being a Canadian means that I'm a part of this great nation and it's now my responsibility to uphold Canada's values and continue to build a strong future for my children and the next generation. I look forward to becoming a citizen because that solidifies my place in this beautiful country. My wife and I now have two children and I will truly be able to call this place home and continue to build a great future here with my family!
CC: What part did Tolko play in the immigration process?   
Gary: I submitted my paperwork about two years ago when I started working here at Tolko and was already a permanent resident. Tolko has played a big role in my citizenship application, because I was able to show steady employment and pay the fees without having to worry about my income or taking care of my family. Also, working for Tolko has given me a real boost to my self-confidence.
Gus: I was already working towards my permanent residency status before I started with Tolko, so while they did not play a direct role in my immigration process, the company has always been very supportive and understanding of the lengthy process and what I'm trying to accomplish. I have just recently submitted my application, so by June 2021 I should be a Canadian citizen!
CC: What was the biggest challenge you faced during the immigration process?
Gary: So far, everything has gone quite smoothly, but the whole process does take time. I have three young children: two sons who came to Canada with me when I arrived from the Philippines in 2016, and my youngest son who was born here in 2018. My family and I applied for citizenship in August 2019, but due to this pandemic our application is still on hold. We are hoping that Immigration, Refugees and Citizenship Canada (IRCC) will be able to resume soon so that we can find out the status of our application.
Gus: The biggest challenge for me was the long time period that it takes for the IRCC to process applications and the uncertainty that goes along with it. To have a work visa or residency application approved is not a guarantee so there was always that unknown that I found challenging.
CC: Do you have any other thoughts that you'd like to share about your journey as an immigrant to Canada?
Gary: When I first got here, I struggled a bit with the language barrier, but my English is getting better every day. People around me were so supportive and they helped me to overcome this challenge. This experience has helped mold me and has inspired me to strive hard and excel not only for my own growth but most importantly for my family. Working at Tolko has given me an opportunity to develop more of my abilities, enhance my knowledge, boost my self-confidence provide for my family. I will be forever grateful for this great opportunity and I am hoping that through my story I can inspire others.
Gus: I have been treated incredibly well coming to Canada. Canada is a very multicultural nation and Tolko is a diverse and inclusive company so I would say I fit in perfectly here! Sometimes I would say it is a bit of a novelty for people to meet an Aussie, so it is always fun meeting and interacting with new people. My overall experience living and working in Canada has been incredibly positive.
Thanks to both Gary and Gus for sharing their thoughts with us on their journey to becoming new Canadians!