By Bob Fleet, Vice President, Environment and Forestry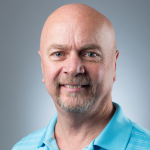 We encourage everyone to wear an orange shirt this September 30 in recognition of this day.
The annual Orange Shirt Day on September 30 is designed to commemorate the residential school experience, to witness and honour the healing journey of the survivors and their families, and to commit to the ongoing process of reconciliation.
Tolko works together with over 80 Indigenous communities in western Canada making these relationships amongst the most important to our business. Additionally, we employ First Nations, Métis and Inuit people across the company. It is because of these relationships, and our commitment to the Truth and Reconciliation Commission calls to action, that we have partnered with the Orange Shirt Society to sponsor their annual T-Shirt design competition open to all K-12 school children across Canada, to help raise awareness about this important day. The winner of the competition gets their design on the shirt for Orange Shirt Day and a chance to meet with Phyllis Webstad whose personal story inspired Orange Shirt Day.
Chief Anne Thomas, from Witchekan Lake First Nation in Saskatchewan reminds us that "Orange Shirt Day is an inspiration that history doesn't repeat itself and that with reconciliation comes hope, growth opportunities and healing. To grow together we need to reconcile."
Tolko is committed to meeting the Truth and Reconciliation Commission's three calls to action for business, as follows:
Meaningful consultation: we continue to work with Indigenous peoples in British Columbia, Alberta and Saskatchewan on making progress towards meaningful consultation, this can include detailed planning exercises where our planning and field foresters work together with community members to be aware of cultural practices and features such as archaeological sites of importance to community members.
Ensuring equitable access to jobs, training and education: our Human Resources staff continue to reach out to communities to ensure awareness of job postings throughout our company, and we engage in mentoring and training opportunities through partners like Outland Youth Employment Program, and specific training on silvicultural practices such as Boreal Care- Carbon Bank Treatment in High Level.
Education on Indigenous history, including residential schools: we continue to host Tolko's Indigenous Cultural Awareness e-learning module on Tolko.com, and of course, we are proud to promote awareness of Orange Shirt Day with our employees and school children across Canada with our newly announced support for the Orange Shirt Society.
If you want to learn more about Indigenous cultures and reconciliation we encourage you to complete Tolko's Indigenous Cultural Awareness e-learning module. You can also learn more about our commitment to Orange Shirt Day here.