FOR IMMEDIATE RELEASE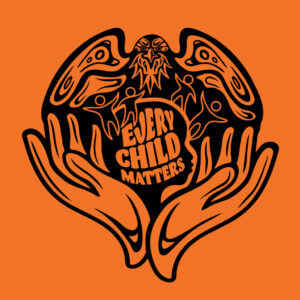 Orange Shirt Society and Tolko Industries Ltd. (Tolko) are proud to announce that Charliss Santos, a Grade 10 student from Ponoka, Alberta is the winner of the official Orange Shirt Day design contest to commemorate Canada's 2023 National Day for Truth and Reconciliation.
Charliss' intricate design shows an Indigenous child held between two hands, surrounded by people, a heart and an eagle.
Charliss said, "The child symbolizes all Indigenous children who suffered inside residential schools. The people represent the strong community First Nations peoples have built, and the support that they receive. The heart represents healing and forgiveness, and lastly, the eagle represents acceptance, honesty and freedom."
Her design was selected from entries submitted from across Canada. She will receive a $200 prize and travel to meet Phyllis Webstad for Orange Shirt Day in September 2023.
Phyllis said, "Every year I am pleased to see K-12 students across Canada submit their designs, and reflections on the importance of residential school healing. I look forward to meeting with Charliss and thank Tolko for helping to bring us all together through this contest."
About the contest
Annually, Indigenous and non-Indigenous children, kindergarten through grade 12 across Canada, are invited to enter the official Orange Shirt Day Contest. We encourage all youth to participate in this conversation by highlighting what their design means to them as part of their entry for consideration by our Board of Directors. Our sponsor, Tolko Industries Ltd., awards a cash prize to the winner, who is flown to meet Phyllis Webstad on Orange Shirt Day in British Columbia to continue the conversation regarding reconciliation. The contest for the 2024 Orange Shirt Day design will kick-off September 1, 2023. More information can be found at: www.orangeshirtday.org.
– 30 –
About Orange Shirt Society
The Society is a non-profit organization with its home in Williams Lake, BC where Orange Shirt Day began in 2013. The purposes of our society are to support residential school reconciliation, to create awareness of the individual, family, and community inter-generational impacts of residential schools through Orange Shirt Society activities, and to create awareness of the concept of "Every Child Matters."
About Phyllis Webstad
Phyllis Webstad is Northern Secwpemc (Shuswap) from the Stswecem'c Xgat'tem First Nation (Canoe Creek Indian Band). She comes from mixed Secwepemc and Irish/French heritage, was born in Dog Creek, and lives in Williams Lake, BC. Today, Phyllis is married, has one son, a stepson and five grandchildren. She is the Founder and Ambassador of the Orange Shirt Society and tours the country telling her story and raising awareness about the impacts of the residential school system. She has now published five books, including the "Orange Shirt Story" and "Phyllis's Orange Shirt" for younger children.
About Tolko
Tolko is a leading manufacturer of a wide range of forest products for customers around the world, including lumber, plywood and veneer-oriented strand board, co-products, biomass power, and a growing number of specialty wood products. For over 65 years, our family-owned company has delivered reliability, flexibility, efficiency and quality. Tolko works with over 100 Indigenous communities in British Columbia, Alberta and Saskatchewan and is committed to reconciliation with Indigenous peoples – our colleagues, business partners and neighbours everywhere we operate.
For more information, please contact:
Orange Shirt Society:
Blair Cunningham, Executive Director
(250) 267-9709
Blair.CunninghamED@orangeshirtday.org
Tolko Industries Ltd. (Vernon, BC)
Chris Downey, Communications Advisor
(250) 306-0929
Chris.Downey@tolko.com