Last month, grade nine students from several High Prairie Alberta schools had the chance to meet with industry professionals from Tolko Industries and learn more about the many career opportunities that exist in forestry.
The career fair, which took place March 6 at the Edmo Peyre Hall in High Prairie featured employers like Tolko Industries and High Prairie Forest Products. Several local Tolko employees met with students to teach them about the Canadian forestry sector, and described the variety of rewarding careers that the industry offers.
Bronwyn Dunphy, human resources business partner with Tolko's High Prairie Division believes that it's important for youth to meet with employers one-on-one and ask questions about what it's really like working in the industry. She says, "Now is the best time for these students to explore their interests and career options so they can focus their efforts on the training and education they'll need to succeed, no matter what career they choose".
At Tolko, we support our communities by being part of them. Whether we're providing jobs, volunteering or giving through donations, we work to make our communities stronger and more vibrant through active participation. Our goal is to help support sustainable communities for today and for future generations. This kind of commitment is one of the many ways we live our Tolko values.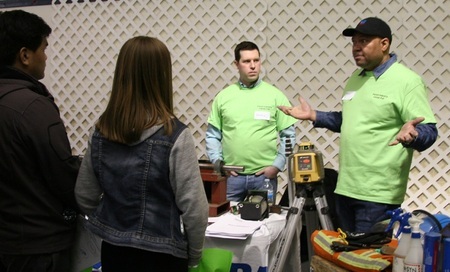 Right photo, from left to right in green shirts:
Justin Simms, Welder & Brian Legall, Millwright, Tolko Industries Ltd. talk to students.
Top photo, from left to right:
Brent Currier, Harvesting Supervisor & Emma Farnham, Woodlands Field Coordinator, Tolko Industries Ltd.