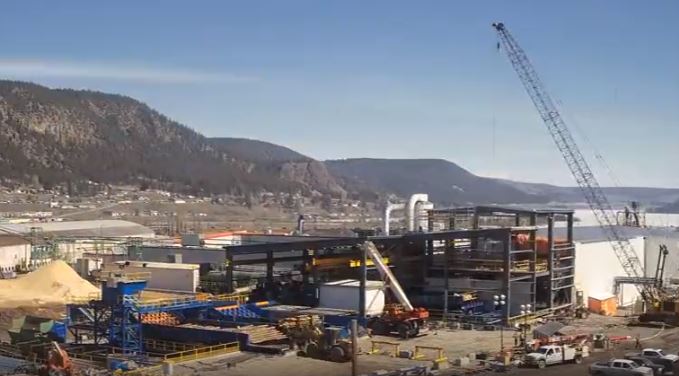 WILLIAMS LAKE, B.C. — Following a year-long rebuild and an in-depth restart process, Tolko's Lakeview Division has returned to full operations.
"When a fire devastated Tolko's Lakeview division in November of 2017, we made a commitment to Lakeview employees and the people of Williams Lake," said Vice President of Solid Wood, Troy Connolly. "We promised to rebuild the mill and return to operations in better shape than ever. Today, thanks to the dedication of the Lakeview team, we are doing just that. The rebuild is not only complete; it also includes incremental capital investment over and above fire damage costs to improve the mill's competitive position and ability to deliver products to the market."
Connolly thanked the community for their patience during construction and congratulated the entire team – contractors and Tolko employees – for a job well done.
Over the past year, the sawmill has been completely rebuilt and is now a world-class manufacturing facility," says Randy Chadney, General Manager, BC Lumber. "The enhancements at the mill will improve competitiveness from a cost and productivity perspective."
Jason Favel, Lakeview Plant Manager, has been overseeing the mill through the rebuild and restart. He says the mood at the mill is positive and employees are excited.
"When we lost the mill, we were devastated," said Favel. "We wondered if this was the end for Lakeview. Now, we're back, and we're better than ever. As people return to work, it's like a family reunion. Everyone is happy to see one another. Then they see the mill and are in awe of the changes. Everyone is excited to get back to work and to see what we can accomplish."
"We're going to have a family day to say thank-you to our employees and their families for sticking with us," he said. "All employees and their families are welcome to come, tour the mill, and enjoy a well-deserved celebration."
About Tolko
Tolko is a leading manufacturer of a wide range of forest products for customers around the world, including lumber, plywood, veneer, oriented strand board, co-products, biomass power and a growing number of specialty wood products.
For more than 60 years, our family-owned company has delivered reliability, flexibility, efficiency, and quality in the production of a wide range of forest products for world markets. We hold third-party certification on the forestlands we sustainably manage in British Columbia, Alberta, and Saskatchewan, and we play an active role in the communities where our employees live and work.
For more information contact:
Janice Lockyer, Communications Advisor
Tolko Industries Ltd.
T : (250) 550-2598     M: (250) 306-0929
Email: Janice.Lockyer@tolko.com