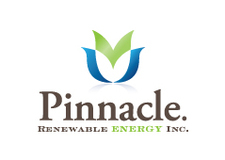 VERNON, British Columbia – Minister of Forests, Lands and Natural Resource Operations, Steve Thomson, Vernon-Monashee MLA Eric Foster, District of Coldstream Mayor Jim Garlick, and representatives from Pinnacle Renewable Energy Inc. and Tolko Industries, gathered today in Lavington, BC to celebrate the grand opening of Lavington Pellet Limited Partnership's wood pellet production plant.
Employing both low temperature European belt drying and Cyclofilter technology, the plant, a $47 million investment on the part of Tolko Industries Ltd. and Pinnacle Renewable Energy Inc., is a showcase for state-of-the-art emissions control technology at a scale not previously seen in the North American wood pellet industry. In addition to creating 25 new direct jobs in the community and providing economic opportunity for local service suppliers, the plant will significantly enhance the economic value and utilization of sawmill residuals from within the broader Thompson Okanagan region.
Minister Thomson said: "Tolko and Pinnacle are recognized as industry leaders, so it's no surprise that Lavington Pellet Limited Partnership is leading the way in green, renewable technology. This new facility will create jobs and contribute to local communities, while producing green, renewable pellet fuel."
Following the grand opening ceremony, attendees toured the facility which began commissioning on September 28, 2015 and saw its first pellets produced on October 1, 2015. As of this week, plant production levels are nearing target levels and Leroy Reitsma, President and COO of Pinnacle Renewable Energy Inc., is optimistic for the future of the plant.
"When we started this project, we were looking at ways to take pellet production to a new standard of environmental stewardship," he said. "From what we have seen of the new technology, we are right on target. We are extremely pleased with the work of the project team, suppliers and contractors who delivered this project safely, on-time and on-budget, and are happy to see this facility making a positive contribution to the local economy, the value of sawmill residuals within the region, the local environment and the global effort to address climate change. This facility represents a major forward step in the technology used in wood pellet production and we are very pleased to have been able to partner with Tolko Industries in this shared vision."
Mr. Reitsma also thanked the new employees at the plant who have worked hard to ready themselves for the task of safely operating the beautiful new state-of-the-art facility.
Brad Thorlakson, President and CEO of Tolko Industries echoed Mr. Reitsma's comments saying: "This is a good project for the community and the Tolko mill in Lavington. In addition to creating new jobs, the pellet plant provides an environmentally compatible outlet for the sawdust and shavings that collect at the site, and other locations in the area. This, combined with our significant investment to upgrade the bag house filtration system at the Lavington mill, will help reduce fugitive dust in the area."
About Tolko Industries Ltd.
Tolko Industries Ltd. is a private, Canadian-owned forest products company based in Vernon, British Columbia. With more than 3300 employees, Tolko is a major producer and marketer of lumber, veneer, plywood, oriented strand board and Kraft papers, with manufacturing operations across western Canada. The company's woodlands operations have been recognized by third-party certification of its sustainable forest management systems. Tolko is a member of the Forest Products Association of Canada and a signatory to the Canadian Boreal Forest Agreement. For more information, visit www.tolko.com.
About Pinnacle Renewable Energy Inc.
Pinnacle Renewable Energy Inc. is a private, Canadian owned company. The company operates seven pellet plants across BC with a production capacity of 1.5 million metric tonnes. The fibre used in Pinnacle's wood pellet production is sourced from sustainably managed forests and the product is primarily sold to customers in Europe and Asia as a replacement for coal in industrial heating and power generation applications. For additional information, visit www.pinnaclepellet.com.
For further information please contact:
Don Hanson, Communications Manager
Tolko Industries Ltd.
T 250 549 5346
don.hanson@tolko.com
Janice Lockyer, Communications Advisor
Tolko Industries Ltd.
T 250 550 2598
janice.lockyer@tolko.com