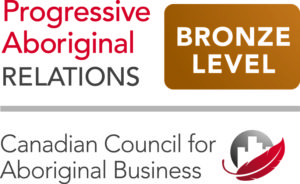 Vernon, B.C. — Today, we are proud to announce that the Canadian Council for Aboriginal Business (CCAB) has awarded Tolko Industries Ltd. Bronze-level standing in their Progressive Aboriginal Relations (PAR) certification program.
Obtaining certification in the PAR program signifies an organization's commitment and performance in four key areas: Leadership Actions, Business Development, Employment, and Community Relationships.
"We are very pleased to have achieved Bronze-level certification in the PAR program," said Bob Fleet, Vice President, Environment and Forestry. "Tolko is committed to diversity and inclusion and creating partnerships with Indigenous communities based on trust and mutual respect. This accomplishment demonstrates our successes, such as procuring over $65 million annually from over 100 Indigenous suppliers and provides us with a framework to ensure greater prosperity for the Indigenous communities we work side by side with every day."
Tolko, which has been working towards PAR certification since 2018, has become the first forest company operating in multiple provinces to attain Bronze-level PAR certification. There is strong alignment between Tolko's core values and the PAR program. The PAR program will help Tolko adapt and grow in the program's four key business areas.
"Tolko continues to engage with leading Indigenous business partners and has launched programs at their mills to help Indigenous youth attain employment in one of Canada's largest sectors," said JP Gladu, President and CEO of CCAB.
Chief Rupert Meenen of Tallcree First Nation said, "I am pleased to see Tolko achieve this certification. It will help ensure that our community can engage with a like-minded business partner. Balancing economic prosperity and environmental stewardship is of great importance to our community."
– 30 –
About Tolko
Tolko is a leading manufacturer of a wide range of forest products for customers around the world, including lumber, plywood, veneer, oriented strand board, co-products, biomass power and a growing number of specialty wood products. For more than 60 years, our family-owned company has delivered reliability, flexibility, efficiency, and quality. We hold third-party certification on the forestlands we sustainably manage in British Columbia, Alberta, and Saskatchewan, and we play an active role in the communities where our employees live and work.
Media contact
Janice Lockyer, Communications Advisor
Tolko Industries Ltd.
T: (250) 550-2598  |  M: (250) 306-0929
Janice.Lockyer@tolko.com