The Meadow Lake Woodlands Team manages Tolko's tenure and fibre supply in the Prince Albert and Meadow Lake areas of Central Saskatchewan, covering an area of 2,560,737 hectares. We are dedicated to sustaining these areas to the benefit of all who live and work there.
In addition to our Timber Supply Licenses with Government, we participate in the management of the Prince Albert Forest Management Agreement (PA FMA) as a shareholder of Sakaw Askiy Management Inc.
We encourage input from the public, the communities in which we operate and our employees as we work towards improving environmental awareness throughout our organization and within our communities.

OPEN HOUSES
2024-2029 Forest Operating Plans
MEADOW LAKE, SK
Click on image to open PDF: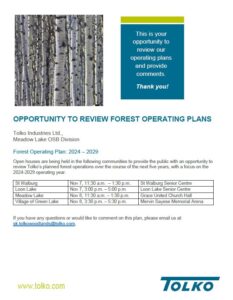 Click on the maps below to view their PDF.