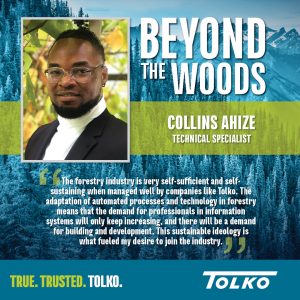 Have you ever read one of our Information Technology (IT) job posts and weren't sure what it meant?  To provide more insight, we've got one of our Technical Specialists ready to take you Beyond the Woods.
Meet Collins Ahize, Technical Specialist for Tolko's Lavington and White Valley Divisions.  As a Technical Specialist, Collins supports the information systems and networking infrastructure that enable the divisions to run production effectively and efficiently. These systems and infrastructure include physical and virtual servers, network switches, desktops/laptops, WiFi devices, video systems, HMI clients, phones and printers.  He also ensures network connectivity maintains maximum uptime by monitoring and troubleshooting, as well as patching and upgrading systems to support the day-to-day running of the business. With so much technology being utilized in our mills, Collins' role is crucial for the success of our operations.
So why would someone with Collins' skills pursue a career in the forestry industry? "I was attracted to the forestry industry because my dad used to be the chairman of the Timber (Lumber) Workers Association back in my home country – Nigeria. The forestry industry is very self-sufficient and self-sustaining when managed well by companies like Tolko. The adaptation of automated processes and technology in forestry means that the demand for professionals in information systems will only keep increasing, and there will be a demand for building and development. This sustainable ideology is what fueled my desire to join the industry."  We couldn't have said it better ourselves – the use of technology is ever increasing in the forestry industry, which is why we need skilled professionals to join our organization.
Have we sparked your interest? Luckily for Tolko, we sparked Collins' while he was completing his studies at Okanagan College.  He first joined Tolko as an IT student and upon graduation accepted a permanent role at our Athabasca Division before moving into his current role supporting our Lavington and White Valley operations.  With Tolko's support, Collins also recently obtained his permanent Canadian Residency!  Collins says it's Tolko's steadfast commitment to Safety, Diversity, Inclusion and Respect in the workplace that has kept him engaged at Tolko. "The support system Tolko has put in place to develop your career is outstanding, and is visible through the Youth Recruitment program, of which I'm one of its proud successful candidates. Working for a company where your voice can be heard and your ideas nurtured, only motivates young career-oriented professionals like myself, and encourages you to excel both as an employee and also as an individual in the community.  Joining the Tolko family has been one of the best decisions I have ever made. I have grown and developed as a person. From learning from influential professionals in my department, to the core values of the company, I owe it all to this wonderful company. Thank you, Tolko."
We're so proud to have employees like Collins working in our organization.  It's one of the reasons Tolko is such a great place to work!
If you want to learn more about Collins' position, the IT department, or Tolko in general, let us know on one of our social media channels.
Follow us on social media or check our company news for more "Beyond the Woods" profiles coming soon.