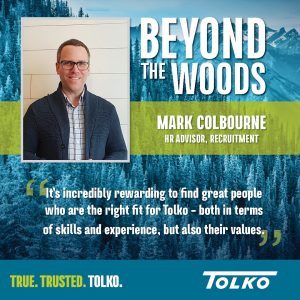 Recruitment: how hard can it really be? You post a position, candidates apply, you select the individuals who most closely meet the qualifications, conduct interviews, and hire a successful candidate. Sounds simple right? But what happens when the candidate you're looking for is like finding a single needle in a pine forest? Let us take you Beyond The Woods with our HR Advisor, Recruitment to find out how specialized recruitment really works.
Meet Mark Colbourne, HR Advisor, Recruitment. Mark provides recruitment support for Tolko's operations across Saskatchewan, Alberta, and British Columbia, including Tolko's Woodlands divisions. What's unique about Mark's role is that he actively sources candidates who may or may not be looking for work, targeting qualified candidates from across Canada for Tolko's high-priority roles in maintenance, operations, and woodlands.
Increasing demands for quality hires and an unpredictable market has reinforced the need to be progressive in our approach to recruitment and ensure we're finding the right people to join the Tolko team. Mark takes a proactive approach to engaging prospective candidates, such as direct sourcing, targeted recruitment campaigns, and various networking initiatives to identify and attract the people we need to meet our objectives. When asked about how his role contributes to Tolko, Mark says, "It's incredibly rewarding to find great people who are the right fit for Tolko — both in terms of skills and experience, but also their values. Finding the right person for the right role is a win-win because it's a great outcome for our business and for them personally."
Mark believes that the candidate experience is one of the most critical areas of the recruitment process. For this reason, his approach remains simple: establish a connection built on mutual trust and respect and take the time to better understand the personal and professional goals of each candidate. This same approach applies with our hiring managers and HR Business Partners, as understanding their needs is critical to delivering the right candidates. Mark feels that taking these steps ensures alignment between Tolko and the candidate. "I really appreciate that I've been able to spend time at each of our operations," says Mark. "This experience has helped me learn so much about our business and given me the opportunity to meet the incredible people that drive our business."
What advice does Mark have for someone considering a career at Tolko? Mark says, "After having spent more than 10 years in the energy industry, I had minimal knowledge of Canada's forestry sector, however, I was aware of Tolko's reputation in the market as being a well-respected, family-based company. Ultimately, it was Tolko that led me to the industry and helped develop a passion and appreciation for Canada's forestry sector; both the variety of opportunities, and the sustainable and responsible practices that are at the core of the industry."
"Tolko is a values-based organization that exemplifies the integrity and principles that I feel are extremely important as a father of four. The care and compassion that this organization demonstrates on a day-to-day basis is remarkable. Tolko has established a culture where new ideas are not only shared, but encouraged and utilized as a means of driving our business forward."
If you want to learn more about Mark's position, the HR department, or Tolko in general, let us know on one of our social media channels.
Follow us on social media or check our company news for more "Beyond the Woods" profiles coming soon.