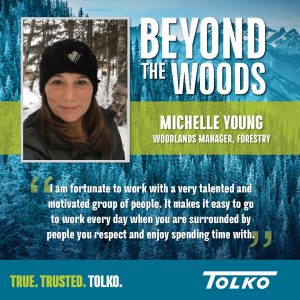 Are you interested in a career that lets you work in the office and in the field but aren't sure what that looks like? Well forestry is a great option!  Positions in Tolko's Woodlands side of the business often offer this balance, so, we asked one of our Woodlands Managers to take you Beyond the Woods to provide more information on what our Woodlands employees do.
We're pleased to introduce you to Michelle Young, Woodlands Manager, Forestry for Tolko's Prairie Woodlands Division based in Meadow Lake, SK.  "In my role, myself and a team of operational planners are responsible for planning of short-term and long-term forest management plans. With that I work extensively with the Saskatchewan Government Forest Service to ensure permits are in place and we are complying with all laws and operational standards. I also spend a great deal of time engaging with stakeholders to ensure, where possible, their concerns are being addressed. I also manage Meadow Lake's forest renewal and SFI (Sustainable Forestry Initiative) certification programs."
But what attracted Michelle to the forestry industry in the first place? "Originally from Fredericton, New Brunswick, I grew up just outside the city. Although I had always enjoyed the outdoors, I hadn't had any exposure to the forest industry. I started University straight out of high school and entered the Business Administration program thinking I would be an accountant. Since I was good at math in High School, guidance counsellors thought this would be the career for me. While at the University of New Brunswick (UNB) a family friend helped me get a summer job with the Canadian Forest Service working on the budworm spray program which began my interest in the forest industry. I learned that UNB had a Forestry program and started there in my second year. I graduated from the University of New Brunswick with a Bachelor of Science in Forestry in 1993 and headed west. My plan was to get some experience and then head back to the Maritimes. That was 28 years ago!" We're sure glad Michelle decided to stay! Michelle joined Tolko in 2010 as a Divisional Forester, before moving into her current role in 2013, and has since contributed to several initiatives that have helped move Tolko forward.
So what has kept Michelle at Tolko for 10 years? When we asked, she said she "appreciates Tolko's core values and the focus on employee safety. I'm proud to work for a company that values its employees as much as Tolko does." And when it comes to her job, Michelle said she most enjoys "the people I work with throughout the forest sector. I am fortunate to work with a very talented and motivated group of people. It makes it easy to go to work every day when you are surrounded by people you respect and enjoy spending time with. I also appreciate the fact that my job is so varied. Every day is different. When I am talking to young students about forestry as a career, I emphasize the variety of work and the fact that we have the opportunity to sit at a desk one day and be walking through the forest the next. And of course, all foresters love to see the fruits of our labors.  I am now at a point in my career where I can visit areas where I was involved in the logging and renewal of sites more than 20 years ago. These sites are now young, healthy forests and that's a great feeling."  We couldn't agree more! We're proud of the work our Woodlands employees do, and their commitment to sustainable forest management enables Tolko to be able to provide quality products while also ensuring healthy forests for generations to come.
If you want to learn more about Michelle's position, the Woodlands department, or Tolko in general, let us know on one of our social media channels.
Follow us on social media or check our company news for more "Beyond the Woods" profiles coming soon.