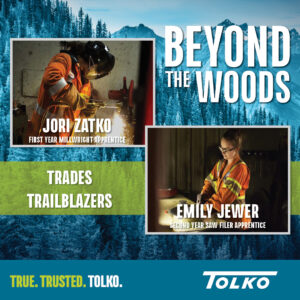 When you think of a trades position in forestry, what comes to mind? Our trade roles are often held by men, but where's the female representation? Well, we'd like to introduce you to two young trailblazers who work at Tolko's High Level Division: Jori Zatko and Emily Jewer. Both are motivated women who are determined to challenge stereotypes by pursuing a vocation they enjoy and succeed in what are still considered male-dominated careers. Join us Beyond the Woods as they share their thoughts on their decision to pursue a trades career with Tolko.
Jori, who is Dene Tha First Nation from Bushe River Reserve, just east of High Level, AB has been working for Tolko for over two years. She joined the company after moving back home from studying Fourth Class Power Engineering in BC. Emily, who is originally from Quesnel, BC joined Tolko in 2014 after attending a local Tolko career fair, which lead to her relocating to High Level.
So, why did Jori and Emily decide to pursue careers in trades?
Jori: I decided to pursue millwrighting as a career because I have always been mechanically inclined. I grew up around motorcycles and ATVs and was completely obsessed with mechanics and dirt bikes. I started as a production employee and learned to run a handful of the machine centers. I would watch the millwrights come to fix the machines and knew I had found my calling, especially having a mechanical background.
I really enjoy the trade because it's hands-on work and takes some serious wrenching sometimes, but there is also the problem-solving aspect that I really like. Not only do I get to stay physically active, but I also get to use my critical thinking skills. Eventually my goal is to obtain my Millwright Red Seal certification and finish my power engineering training.
I think the most surprising thing about millwrighting is the broad scope of the job. I find one day I'm replacing bearings and the next I'm running a torch or even welding. There's always something new to learn. I do find it surprising that there aren't very many women in the trade. I know quite a few mechanically-inclined women but haven't crossed paths with another female millwright yet. I believe that maybe not enough women have been introduced to the trades, or the idea of considering a trades career. I'd honestly love to see more women in the shop!"
Emily: I honestly didn't know a thing about saw filing when I submitted my bid for my apprenticeship; I had been running stackers for most of my career at Tolko and hadn't spent much time around the canter lines. I knew I wanted to do more with my career and an apprenticeship seemed like a good next step!
I like that there's always something new to learn from the people I work with. The biggest surprise I found getting into saw filing is why more people don't want to learn the trade. There's such an art to saw filing, the trades professionals I work with are all incredibly talented and there's plenty of opportunity for career growth. It doesn't surprise me that there aren't more women in this field or in the trades in general. When I started at the sawmill, it was difficult for me to be taken seriously but I was very fortunate to end up working with one of the few other female machine operators during my first months at Tolko. If it wasn't for her, I don't believe I would've made it far enough to be considered for a trade. During the last couple of years, I've started to see more of the women who are hired staying and succeeding."
With choosing such challenging trades, what do Jori and Emily enjoy most about their positions?
Jori: I really enjoy my fellow co-workers. I do feel like the people I work with really care about my well-being. It's nice to have that kind of support at work and not just at home. I'm First Nation and having my work close to home is amazing. The balance of life and work blend almost perfectly. I work as a shift millwright, so eight hour days at five days a week, so I still have quality time with my family and my dog. I feel that Tolko does well with the inclusion of the First Nation people. My family owns trap lines in the surrounding forests and it's kind of cool to know that some of these logs that come through the mill come from my family's traditional lands.
Emily: I really enjoy the people I work with both in maintenance and on the production shift. I've made some great friends during my time here, which makes it a good place to be. Both my husband and I (who I met at Tolko when I first started) work on the maintenance team here. The company has been amazing about making our schedules work so that our kids are in the least amount of daycare and so we get to spend as much time with them as possible. I've been with Tolko for both of my maternity leaves and the management team has always put in the effort to make sure that I was able to stay safe at work while I was pregnant and make the transition back to work seamlessly.
And finally, what would you say to other women who might be considering a trades career in forestry?
Jori: I would say go for it, set that trade in your sights, go get it, and don't look back. Being a millwright in a mill will give you the best experience and education to cover almost all aspects of the millwright trade. I really believe we need to empower women to step up and do whatever they set their minds on!
Emily: I say go for it! I've become part of an online community where I see other female saw filers succeeding in the trade and it's so inspiring! Taking the leap to work in an industrial job or trade can seem a bit intimidating at first, but if you show up every day willing to learn, there are so many opportunities!
If you want to learn more about trade our trade positions or Tolko in general, let us know on one of our social media channels.
Follow us on social media or check our company news for more "Beyond the Woods" profiles coming soon.