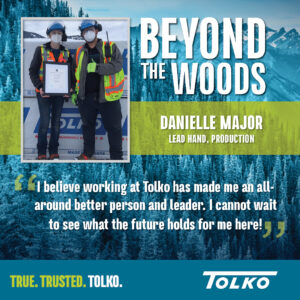 Are you interested in a career at one of our operations but aren't sure what it's like to work in an industrial environment? Production positions in our operations are a great way to get your start at Tolko, so we asked one of our Lead Hands to take you Beyond the Woods and provide more insight into what it's like to work in a mill.
We're pleased to introduce you to Danielle Major, Lead Hand, Production at Lavington Division.
"As a lead hand, my role is to assist the supervisor in running the production shift," says Danielle. "This includes doing regular quality control checks of the lumber being produced, watching over the production line and fixing any cross-ups or skews that may occur, troubleshooting problems with the help of planermen/women, millwrights, or electricians, and assisting the equipment operators when necessary. I am also trained in many of the equipment operating positions. This allows me to cover coffee breaks or fill in for operators that may call in sick."
There's no question that Danielle's position is integral to Lavington Division's operation. If you're interested in a similar career with Tolko, we are currently recruiting for production employees at Lavington. Applications can be submitted online at www.tolko.com/careers.
So, what attracted Danielle to Tolko in the first place?
"I became interested in working for Tolko because at the time I knew someone who was working in the sawmill at Lavington," says Danielle. "They had heard that Lavington was hiring casual employees to do Firewatch during maintenance shifts on the weekends. I was working for Wendy's Restaurant and was eager to make more than minimum wage. Once I started at the mill, I was instantly hooked on the great team atmosphere and amazing people that I got to work with."
Attracting employees is one thing, but what keeps them at Tolko? Danielle joined the company at the age of 20 and has now been with Tolko for 7 years. When we asked her, she said, "My absolute favorite part about working for Tolko is their high safety standards. They always go above and beyond to ensure employees are safe. They make it clear with everyone that nothing is more important than our personal safety and ensuring that we return home safely to our families every day."
She adds, "I also enjoy the wage. The starting rate is quite high, and I feel blessed that I get to work here in the beautiful Okanagan. This solid income has given me the opportunity to grow my savings and even purchase a house!"
During her time with Tolko, Danielle has been able to participate in Tolko's learning and development initiatives.
"Tolko supports training and education. If employees are enrolled in school or interested in enrolling, Tolko will happily put people on shifts that works best with their schedules. Tolko also continuously offers training programs to their employees to better further their understanding and development. I have personally attended a lumber grading course they offered which taught me all about the different lumber grades that we produce at the planer mill. After completing the course, I received a certificate and a pay raise," says Danielle.
Tolko has also partnered up with other mills in BC to develop a BCIT Associate Certificate in Industrial Wood Processing, which Danielle has completed. She feels that she has learned a great deal during the program and met many amazing people in the industry.
Danielle says, "All expenses were paid for by the company, including a flight down to BCIT to meet my other classmates and instructors, which I really appreciated! I believe working at Tolko has made me an all-around better person and leader. I cannot wait to see what the future holds for me here!"
And we can't wait to see either! Employees like Danielle are the reason Tolko is successful and we are honored to have such great employees!
If you want to learn more about positions in our operations or Tolko in general, let us know on one of our social media channels. Follow us on social media or check our company news for more "Beyond the Woods" profiles coming soon.