Congratulations to all our Lumber Grading Champions!
Kamaldip Sandhu from Tolko's Soda Creek Division and Steve Brown from Lavington Division won first and second place, respectively, in the 50th Anniversary B.C. Lumber Grading Championship that took place in Kelowna on Saturday, May 26.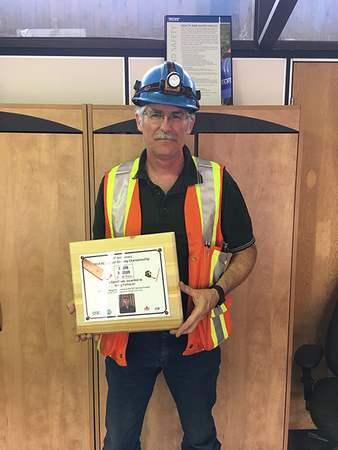 Another winner is Doug Felhauer (above) of Tolko's Armstrong Division who ranked eighth in the competition.
Other Tolko employees who competed at the event were Weijie Wang and Jagdev Dhaliwal of Lakeview Division, Dave Bissell from Soda Creek, and Jagdish Puri from Quest Wood Division.
"I heard competition was pretty tough this year, and I don't speak for just myself to say how proud I am of every one of our team members' dedication and work ethic," says Clay Bremner, continuous improvement coordinator at Tolko's Soda Creek Division in Williams Lake, B.C.
"Each person put in lot of effort into this competition and it showed," he says. "Absolutely excellent work from everyone involved!"
Pictured from left to right: Clay Bremner, Kamaldip Sandhu, Jarrett Pereboom, Steve Brown