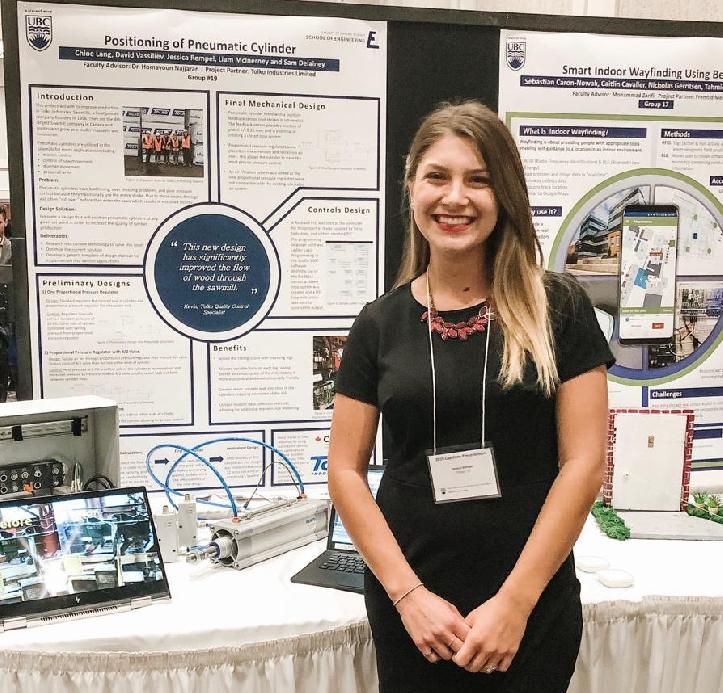 This spring, Jessica Rempel will graduate from UBC Okanagan's Mechanical Engineering, based in Kelowna, BC. The 24-year-old is looking forward to her future and has a great head start on her career thanks to her time as a multi-year co-op student at Tolko's Armstrong Lumber Division.
Jessica says her time as a Control Systems Student Engineer has by far been the greatest work experience she's ever had. "Not only did I have the opportunity to work with state-of-the-art technology, but the staff I worked with was also amazing."
Earlier this month, Jessica and her team won first place in the electrical category as part of her capstone project. The project is completed by all engineering students during their final year. It consists of a major, year-long project, where small teams of students use the knowledge and skills gained during their studies and work terms to solve challenging real-world problems proposed by community partners. At the end of the project, community partners are presented with design models and potentially a working prototype as a solution to their problem.
For her capstone, Jessica chose to work on a new pneumatic positioning system for Armstrong Lumber. The project included developing technology that could be fully integrated into Armstrong's canter line capital project.
Jessica's work has made a real impact at Armstrong Lumber. Since the technology was installed in December 2018, it's performed extremely well. The design allows for precise control of the press roll arms. With the new design, the press roll arms can now be positioned to the exact diameter of the incoming log. Where there used to be many jam-ups from the logs, we are now seeing a smooth flow of wood through production.
For Jessica, there is no better way to finish her engineering degree. "This is so exciting! I want to thank my teammates for their dedication and hard work in making this possible. It was a lot of hard work, but worth it to see the results in the end!"
Regional Control Systems Specialist Dwayne Bueckert heads up the Lumber Process Control and Optimization team at Tolko's Armstrong Division. When Jessica approached the team with a proposal for her innovative idea, he and his team were on board.
He says, "The Pneumatic Positioning project was implemented through Tolko's Innovation Fund program and staged into production in three phases of incrementing difficulty. Each phase involved converting traditional pneumatic cylinder controls to the new proportional positioning design, but each phase brought with a unique set of new challenges. Jessica brought a fresh set of ideas and solutions to each challenge, driving the project forward with a success well beyond expectations. At the current rate of technological advancement, the creativity and ambition of talented youth like Jessica will be key if we want to maintain a technical advantage."
From the very beginning of her university program, Jessica was acutely aware of how few women pursue careers in science, technology, engineering and math (STEM). Early on in her engineering program, she noted the disproportionate number of males to females in her class, an observation that later carried over to the workplace.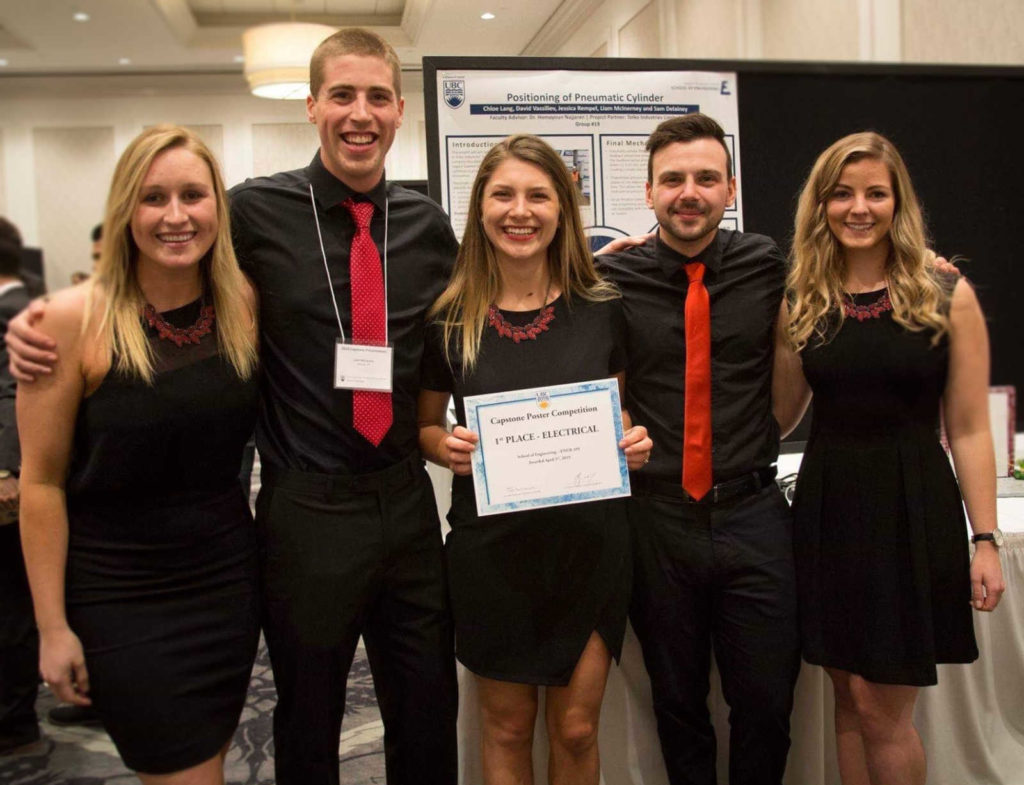 Instead of seeing it in a negative light though, Jessica embraced the challenge of changing perceptions. "As a female in engineering, I'm very used to being in the minority and I love getting the chance to show that "girl power" isn't just something we sing about. I take any opportunity I can to encourage young girls to study engineering or other STEM-related fields. We need more women in this industry!"
Jessica has since accepted a position as Control System Specialist (CSS) at Armstrong Lumber, making her Tolko's first-ever full-time female CSS. She starts her new role on May 6, 2019. She looks forward to the opportunity to work on more projects like this one and to help improve production at Tolko mills. "Tolko is an amazing company, and I am very excited to be joining the Tolko team!"
Top photo: Jessica Rempel
Bottom photo, from left to right: UBC Okanagan Engineering students Sam Delainey, Liam McInerney, Jessica Rempel, David Vassiliev, and Chloe Lang, 1st prize winners in the Electrical category for their work on the positioning of pneumatic cylinders.