Our core values at Tolko are a foundation for a strong and vibrant workforce that serves to improve the productivity and morale of the company as a whole. Employees who adopt these values as their own help create a healthy, productive, and profitable work environment. Twelve employees have been awarded Tolko's 2019 Values Award for consistently demonstrating Tolko's values of Safety, Respect, Progressiveness, Integrity, Open Communication, and Profit.
In April we introduced you to three award recipients: Bill Drebit, Millwright from Soda Creek Division (now retired); Annette Fensom, Payroll Administrator from Heffley Creek Division (now retired); and Roderick Quilty, Area Lead, Rip Line from Meadow Lake Division. Now we're pleased to share with you the stories of another three remarkable employees who live Tolko's values: Bruce Doroshuk, Rod Massey, and Bryce Pollock.
Bruce Doroshuk, Head Saw Filer, Armstrong Lumber Division, BC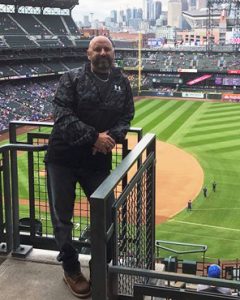 Bruce, who is a father of three adult children and a grandparent of one, is an avid sports fan who loves hockey, football, and baseball. He also enjoys playing volleyball and wallyball in his spare time. During his 37 years with Tolko and 24 years as a saw filer, he has always strived to be fair, honest, and open to other peoples' ideas.
"My thought is that success is something that requires planning," says Bruce. "Setting short- and long-term goals for myself and the filing shop keep us current and hopefully ahead of the curve in terms of the quality of our work and proven results at the mill."
When reflecting on why it's important to live Tolko's values at work and at home, Bruce thinks that having a consistent set of core values provides continuity as an employee and citizen within the community.
"I notice every day that many employees exhibit Tolko's values, which is great," says Bruce. "What's most important, I believe, is that our core values should not change when we come to work verses when we're at home."
Congratulations Bruce on your achievement and for demonstrating Tolko's values every day!
Rod Massey, Eagle Rock Nursery Superintendent, Armstrong, BC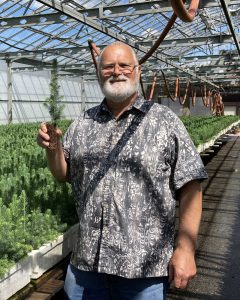 Rod is a firm believer in taking personal responsibility for one's behaviour and leading by example.
"Every day I endeavour to the best of my ability to demonstrate Tolko's values," says Rod. "The key is openness and honesty with others and possessing a genuine desire for continuous self-improvement. I try to lead by example and where mistakes are made learn and grow from that position to better myself and others."
Rod, who has been with Tolko for eight years is retiring this summer after a 40 year-long career in the tree nursery business growing forest seedlings. He estimates that he's probably grown over 350 million trees during his career! Rod is looking forward to spending more time with his wife Dianne, to whom he has been married for 45 years, as well as his extended family which now includes nine grandchildren ages five to 15. He also plans to do more boating, camping, hunting, fishing and just enjoy life.
"Life truly is good and family is everything," says Rod. "I really appreciate the way that Tolko has treated me. My wife and I both wanted to retire in Vernon, our home town, and Tolko has helped make that possible. Demonstrating Tolko's values, whether at work or home, is a good way to live, appreciating that we are all in this together with a goal to prosper and succeed," he adds.
Congratulations Rod on your well-deserved award and for living Tolko's values!
Bryce Pollock, Millwright, High Level Division, AB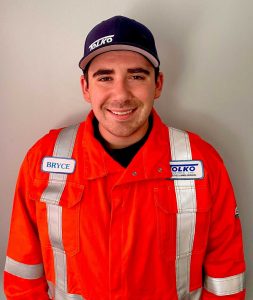 Bryce, who has been with Tolko's High Level Division for almost seven years, is a new father to a little boy born last month and passionate about safety. He feels that treating others with respect is a necessary foundation for a healthy work and home environment.
"By living Tolko's core values I find they all domino into one another," says Bryce. "By acting safely and respectfully at work it opens the door to progressiveness, integrity, and open communication, which I believe is very important."
Having a positive mindset at work and going home safely every day feeling good leads to healthy choices at home, he adds.
"Demonstrating Tolko's values is important to me because I think if everyone incorporates the safety and respect for others at their workplace into their everyday routine it will follow them home and help them lead safer and happier lives."
Congratulations Bryce on your achievement and for consistently reflecting Tolko's values at work and at home!