Paul Rosher takes the phrase 'a rolling stone gathers no moss' rather seriously. In his role of Harvesting Supervisor, Roads, Paul travels approximately 5000 KM, or the equivalent of driving from Vernon, BC to Moncton, NB, on a monthly basis. He spends most of his time reviewing silviculture, harvesting, and road plans across Tolko's Okanagan Woodlands to ensure contractors are sticking to the plan – which is essential, as any deviation could result in costly fines for Tolko.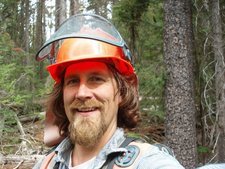 Based in Okanagan Woodlands, Paul has been with Tolko for 9 of his 16 years as a Professional Forester. He says his favourite part of the job is the variability. "One day you're climbing up a 70% slope looking for backspar trails for a grapple yarder, the next day you're in the office finalizing a cutting permit for 100,000m3 of wood to harvest. It's always interesting."
With such diversity in his day-to-day career, Paul is laser focused on what he considers the most important aspect of his job – safety; being safe on the job and ensuring the safety of co-workers. Working in remote areas, there are numerous safety checks in place, such as inReach global satellite communicators, and mobile first aid/check-in stations. "As I travel the forestry roads, I'm always checking bridges for repairs. As I'm talking to the crews out here, I check to see if they're wearing proper PPE and pass on wildlife sightings – it's a hazard of the job! I want to ensure everyone out here gets home safe to their families."
When it comes to constructing roads, keeping the safety of crew and contractors in the field is paramount. In 2015, 409 KM of road was built throughout the Okanagan. A great deal of thought and consideration goes into each road that is built. Paul and his team must ensure optimal yarding distance is achieved, minimum costs are incurred and maximum decking opportunities are considered.
"In Woodlands, there are so many people doing different jobs, but it's pretty cool to see it come together. We all work for Tolko, and we all have completely different jobs. The opportunities at Tolko are endless," says Paul, as he's watching a D8T Road Builder move boulders to make way for a new road. "It's pretty awesome!"