Meet another three of our well-deserving winners: Dave MacDonald from Armstrong, BC, Mark Straza from Lakeview Division, BC, and Brandon Fandrey from High Prairie, AB! Tolko's company Values are the foundation of our culture. They guide our day to day actions and decision making and support us to execute on our strategy. Employees who adopt these Values help create a safe and rewarding work environment. Each year we recognize 12 exceptional employees across the company for living Tolko's Values of Safety, Respect, Progressiveness, Integrity, Open Communication, and Profit in their daily life and work. This may include leading by example, modelling diversity and inclusion, being accountable for their actions, making prudent decisions, and communicating openly and respectfully with colleagues.
Dave MacDonald, 2nd Class Maintenance Engineer (Cogen), Armstrong Plywood & Cogen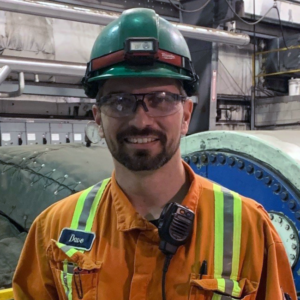 "Each day I strive to exercise Tolko's Values. I enjoy working with a team and watching out for my co-workers to ensure they're safe. It's important to me as I am a part of the safety committee. Through integrity and open communication, we strive to improve our morale and keep a positive attitude. I aim to respect the point of view of my colleagues, and enjoy listening to other people's perspective on how to approach different jobs in the workplace. I work with an incredible group of individuals! These values carry into my home life, being respectful and mindful of others is an important part of healthy relationships. Practicing open communication with members of my family helps everyone understand what each of us is going through, and where we should focus our attention. I'm truly honoured to receive this award!"
Mark Straza, Log Scaler, Lakeview Division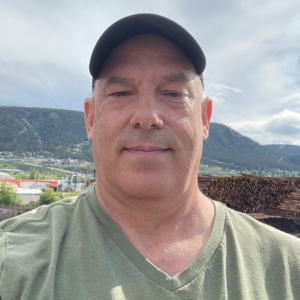 "I was surprised and grateful to learn that I was to receive the Tolko Values award. I was very fortunate to be asked to join the Woodlands team a few years ago to work on a mill construction project. I worked closely with logging contractors and learned a lot about the logging side of the business. This experience taught me how to collaborate with others, and made me realize just how important Communication, Safety, and Respect are for the success of a company like Tolko. I feel that these values are also important for a successful family: my wife Karyn, 31 years as a Registered Nurse in the OR, my son Zach, seven years as a wildfire fire fighter (and five years as crew boss) and my daughter, Ashley, two years as a RN in the same OR as her mom! We all live these values every day."
Brandon Fandrey, Millwright, High Prairie Division

"I am honoured with this award. I believe I demonstrate Tolko Values every day at work by making sure everyone around me is working safely to go home to their families at the end of the day. From working with newer workers who don't know the area, helping a coworker who needs a second opinion on how to complete a job, and ensuring that all work is done safely is important to me. I aim to lead by example at work, as others see how you handle situations. Living Tolko's Values at home is a priority of mine, even if it's as simple as using a proper ladder instead of a chair, or making sure to use PPE for yard work or house maintenance. Thank you!"
For a complete list of Tolko's 2021 winners, click here.