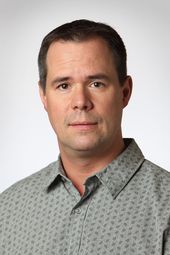 Troy Connolly, Tolko's new VP of Solid Wood, has 20 years' experience in the industry; starting as a summer student in 1998 then progressing through not only a multitude of different jobs throughout the company, but also managing to; complete his business degree; and reside in 4 different communities along the way. What is most striking about Troy is his commitment to the people he works with and to the values of the company. His dedication to safety and to providing thoughtful leadership are two of the many reasons we wanted to Take 5 and get to know him a little better.
CC: What's the most valuable lesson you learned on your journey?
Troy: I believe leadership can and should exist at all levels of an organization. In every role, I've held, I've been fortunate to be with people who genuinely want our company to succeed, regardless of their role. The number one thing this has taught me, and that we need to remember, is that leadership is about people – people drive our business. If we engage and involve our employees, we will be more successful as a company. When people are inspired by their leaders they tend to be happier and they want to contribute and make a difference.
CC: What's the best advice you've ever received/who inspires you the most?
Troy: My dad was very supportive and gave me the best advice I've ever heard. Shortly after I graduated from university, my dad told me one night, as we were sitting around the campfire, that "it was never about cutting the lawn". I asked him what he meant and he said it would have been easier for him to cut the lawn then fight with me as a kid to do the work, but "it was about teaching you the value of hard work and meeting your commitments". The lesson was over 30 years ago – but it has guided and shaped who I have become. You need to work hard to succeed – nothing comes for free.
CC: If we're sitting here a year from now celebrating what a great year it's been for you in this role, what are we celebrating? In 5 years?
Troy: We would be celebrating excellence in safety performance. For me, our success as a company is not defined just by the numbers. I truly believe that people should be safe at their workplace. If we're a company where people are not getting hurt, then we're doing it right. We'd be celebrating innovation. Innovation will become a differentiator for us when we are compared to our competitors.
By harnessing the innovative nature of our employees not only will our performance improve overall, but so too will employee growth and engagement.
Our current recapitalization strategy will be complete and our assets will be performing at world class levels.
CC: What advice would you give to someone just getting started and looking to build a great career at Tolko?
Troy: I think that your opportunities are what you want them to be. It's up to you to guide your own career and contribute, and to grow you need to be okay with being uncomfortable. In that I mean that, you need to be willing to make difficult choices that continually move you forward. When I look back over my career, I can honestly say that there was never a time when a move was not good for my growth – both personally and professionally. They may not all have been easy, but they were worth it.
More than anything else, don't ever defer your future to someone else – it's up to you.
CC: What does leadership look like to you?
Troy: To me, leadership means creating an aligned vision and building a team that has the capacity to deliver that vision. It also means fostering a collaborative and supporting environment that encourages two-way communication, including direct, honest, forthright feedback that is not negative but delivered to guide development. I think it's important to set clear goals so that people know what winning looks like and what's expected of them. I also support the idea of mentoring and supporting people so that they feel that they can grow professionally and succeed along with their team and the company.
CC: For fun: what's the top item on your bucket list?
Troy: (Laughs). Um, I struggled a bit with this one! I try to tackle things that hit my bucket list as they come up. This year, my wife and I are going to hike the West Coast Trail – that's been on our list for a while. I guess the list is ever evolving…