Tolko's Tina O'Neill shares her recruitment experience at Williams Lake 'What Works' employment summit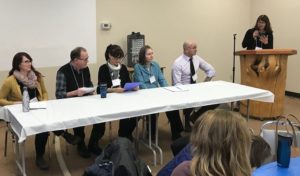 Tina O'Neill, Tolko HR Manager, is practical and resourceful. She believes in tackling problems directly and coming up with Human Resources solutions that make Tolko a great place to work for her team and employees in the Cariboo Region and Heffley Creek area.
Her extensive experience and practicality made her an obvious choice to participate in the 'What Works' summit held in Williams Lake, BC in February 2019.
The summit is jointly organized by the Thrive Williams Lake Project, the City of Williams Lake Economic Development Office, and the Regional Education Council. The panel presentation brought together local business owners, recruiters, the Downtown Williams Lake Association (DWLA), and other community stakeholders to discuss the challenges employers face when recruiting top talent in the area and share possible solutions and best practices with the attendees.
During her presentation, Tina shared some interesting statistics with the audience on the current employment situation at Tolko.
She says, "Last year, we looked at our Soda Creek Division to see if our employee population reflected the Williams Lake community. When we looked at the results, we noticed that only 1% of our workforce there self-identified as Indigenous. We knew right away; something had to change. If we wanted our company to be a true reflection of our community, we had to shift focus. If our experience is typical of most employers in Williams Lake, then I can tell you that, from a diversity and recruitment standpoint, we're missing out on an opportunity to tap into the Indigenous workforce for new talent."
Tina noted that in addition to looking for employees in Indigenous communities, employers must begin to address lingering perceptions and biases about Indigenous employees in the workforce.
"Some employees don't self-identify as being Indigenous because they feel they may be singled out or discriminated against simply because of their heritage," she says. "At Tolko, however, we're taking a new approach. We see diversity and inclusion as a competitive advantage. When our employees look around at their co-workers, we believe they should see a reflection of the entire community in which they live."
Tina went on to highlight Tolko's Sawmill Train to Work program as an example of how Tolko is changing its approach to employee recruitment. The program, which launched in April 2018 at Tolko's Heffley Creek Division is designed to provide Indigenous youth the skills they need to succeed in forestry. The four-week-long program accommodates up to eight applicants per intake and is currently running at Tolko's Soda Creek and Armstrong Divisions in B.C. A similar program is also being rolled out at Tolko's facilities in Williams Lake.
Tina says launching the program has been exciting.
"We saw an opportunity to find great people with the right skills and values. We partnered with the Cariboo Chilcotin Aboriginal Training and Education Centre (CCATEC) and Sage Trainers who came in and worked with us to deliver the program."
Participants in Sawmill Train to Work learn essential skills to set them up for professional success in the forest industry, such as safety training, interviewing skills, and any upgrading support they need to meet the requirements of a high school diploma. Tolko also provides up to eight offers of employment for candidates who complete the program.
"As part of the training, we provide a tour of the facility for the entire group. This gives everyone the opportunity to connect with the course content, and to meet the Tolko team and learn our history and values. By doing this, participants can see firsthand if Tolko is a company they want to work for," says Tina.
Tina told attendees that she firmly believes one of the reasons Tolko's engagement numbers have been steadily increasing since 2012 is because of initiatives like this that Tolko's is developing as part of its Diversity and Inclusion strategy.
"We looked at what we were doing and realized that if you want to do better, then you're doing today, you have to do something different. For us, that was making a direct effort to ensure our company reflects our community. We had great support and I as I told everyone in the room that day, it doesn't have to be difficult. Williams Lake has a lot of resources available to assist businesses who need skilled employees."