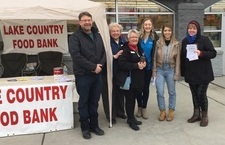 As National Volunteer Week continues, we'd like to introduce you to our next amazing Tolko volunteer – Jim Haxton. Jim, a Sawmill Superintendent, Lumber Operations with Tolko's Kelowna Division, has made it his mission to help people in need. He has volunteered for the Lake Country Food Bank for over five years, and has not only helps keep the food bank stocked, he's also helped build them too (with Tolko product of course). We recently asked Jim why he became a volunteer and what he enjoys most about helping those who are less fortunate.
CC: What made you decide to become a volunteer at the Lake Country Food Bank? 
JH: I became a volunteer to give back to my community and help people in need. For many of us, there's a point in our lives where we could use a helping hand and I realized how helping others can make a real positive impact in someone else's life. Working with the Food Bank is my way of reaching more people in need.
CC: What is the most rewarding part of being a volunteer coach with this organization?
JH: There are many rewards that I get from volunteering with this organization. I am very proud of all the people who volunteer many hours of their time to help run the food bank, as there are no paid positions in the organization. As the Chairman of the Board, I've led the food bank through growth and change. It is very rewarding to be part of a group of people who are so committed to the process in helping people in the community without prejudice of any kind.
The group has also set up a thrift store to generate revenue so that we can provide nutritional hampers to all that come for help. The new food bank building was built and set up with grants, donations and volunteer hours. I spent many hours volunteering while it was under construction. We're in the process of expanding the building space to allow for food recovery, where we redirect perishable food that would normally be discarded on to people in need. This produces less waste while providing nutritious meals to those who need them.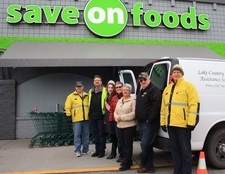 CC: Is there anything else you'd like to share with us about your work with the Lake Country Food Bank? 
JH: In 2015 we built the Lake Country Food Bank and in 2016 we started a food distribution network supplying surplus food to tiny towns in the North Okanagan, including Cherryville. In 2016, volunteers built Cherryville's Food Bank, in both cases using building materials donated by Tolko.
About National Volunteer Week
National Volunteer Week (NVW) is a time to celebrate and thank Canada's 12.7 million volunteers. Join Volunteer Canada and Investors Group April 15-21, 2018 to recognize the contributions of volunteers in our communities. This year's theme is: "Celebrate the Value of Volunteering – building confidence, competence, connections and community".
This week, we're recognizing several of our Tolko employees for the amazing and selfless volunteer work they do in their communities. Volunteers give their time, skills, experience, and passion to help others, without expecting anything in return. And while volunteering is a form of service, many volunteers will tell you that "you get more than you give". The magic of volunteering is that it creates social and economic value for all.