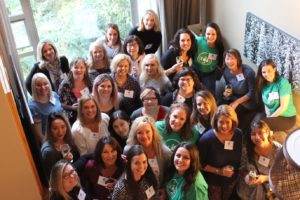 Tolko's own Judy Johnston and Gail Courterielle recently attended the inaugural "Women of Lumber and Forestry" (WOLF) networking event Sept. 27-29, hosted by Dakeryn Industries. The 30 women who attended represented a variety of forestry-sector organizations, some from as far away as Pennsylvania, Georgia, and California, U.S.A. and held positions that included CEOs, VPs, mid-level managers, sales and marketing professionals, and executive assistants, just to name a few.
The jam-packed two-day event included a 'Women in Lumber' workshop, group team-building activity, a panel discussion with industry leaders, and other speaking events that gave the participants an opportunity to network, share insights about the issues and obstacles that women face in forestry, and discuss leadership and mentorship opportunities. Tolko also donated $500 to help support the event.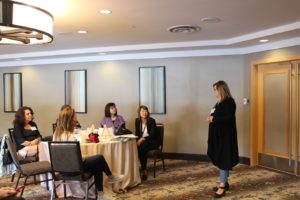 Judy Johnston, a Panel Sales Rep who works in Plywood Sales at Vernon Office, was both a delegate and guest speaker at the event. "I was very honoured to be able to speak to the group about our Diversity and Inclusion strategy and the many exciting initiatives that we're working on to help create a more diverse and inclusive work environment for our employees," says Judy.
She addressed topics such as 'unconscious bias', Tolko's Women's strategy, and why women need to take ownership of their careers and be their 'authentic selves' at work. "In other words," says Judy, "Don't try to be someone else, your ideas are just as valuable as anyone else's."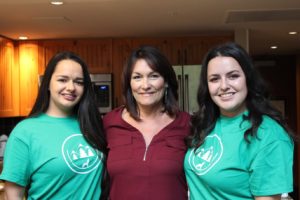 Gail Courterielle, a lumber Sales Rep who works in Mill Sales at Vernon Office attended the event as a delegate. "This event was very worthwhile for Judy and me," says Gail. "I feel it's important to build and strengthen relationships with other professional women. The information-sharing and inspiration were incredible.' She adds, "I really appreciate the mentorship that Judy has provided to help me succeed in my current role."
The event was spearheaded by sisters Kaitlyn and Lauren Chimko of Dakeryn Industries, a distributor of SPF dimension lumber and remanufacturer of speciality wood products based primarily in BC.
"Our aim was to create a unique environment where women in the industry could learn, build a community, and empower each other in a relaxed setting," says Kaitlyn Chimko, a Lumber Trader with Dakeryn Industries.
"We attribute W.O.L.F.'s success to the powerhouse group of women that joined us, the organizations that supported us, and the leaders at Dakeryn that gave us the green light to run with this idea," adds Lauren Chimko. "We could never have anticipated the energy and enthusiasm the attendees would bring to the table."
Judy says, "Gail and I established some great relationships with these ladies, and we're really looking forward to Tolko participating again next year!"