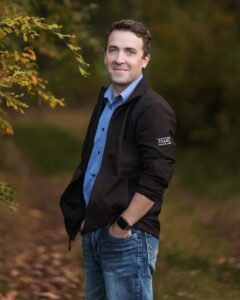 Each year, Canadian Forest Industries (CFI) highlights 10 men and women under 40 who exemplify the best of Canada's forest industry.
Their ninth annual "Top 10 Under 40" awards consist of dedicated young men and women who represent every aspect of the forest sector and are passionate about what they do. We are proud to announce that Adam Blyth, Sawmill Superintendent with Tolko's High Level Division has been selected as one of CFI's 2021 "Top 10 Under 40" winners!
"I'm extremely grateful to be receiving this award. I can't say enough about the many different opportunities that Tolko has provided me during my career," says Adam.
Adam, who has worked in forestry for 17 years joined Tolko in 2004. He enjoys helping others reach their potential and succeed through training and skills development. Congratulations Adam on your achievement!
Read the full story on CFI WoodBusiness here.