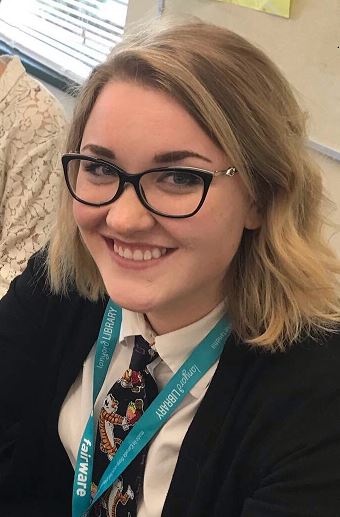 Emily Medema is a vibrant 19-year-old university student with a passion for technology and travel. Heading into her third year at UBC Okanagan as a full-time Computer Science major, she also works one day a week with Tolko's IT department at Vernon Office, a position she has held for almost two years.
Last September, Emily was one of 10 young women selected as a recipient of the Women in STEM Scholarship, awarded by the Irving K. Barber Scholarship Society. The $10,000 scholarship is available to women who are full-time students completing a Science, Technology, Engineering, or Math (STEM) degree program.
"I saw the scholarship promoted on Facebook and posted by the University's Quantitative Sciences Course Union," says Emily. "For my scholarship submission, I had to write about what I planned to do with my degree and then a 500-word essay that addressed an issue at the community or global level that could be solved using a STEM approach. I chose to write about reducing incidents of police brutality with training using augmented and virtual reality."
When the University's scholarship coordinator contacted her last fall to tell her that she had been selected as one of the recipients, she was thrilled.
I've always enjoyed science and technology, and so it made sense for me to pursue a career in computer science," says Emily. "But I know that technology is still considered a 'non-traditional' career choice for women. When I started at UBCO, I was surprised to discover that about 60% of my classmates were men and only 40% were women."
As a scholarship recipient, Emily was invited to be a guest speaker at the 2nd Annual Girls STEM Leadership Conference held at St. Margaret's School in Victoria, BC on April 26. The conference was open to girls in grades 7-10 from various public and private schools in the Greater Victoria area and the Lower Mainland. The theme of the event was 'Sustaining Our Future'. She spoke about the forestry industry, Tolko's Diversity and Inclusion Strategy, and the company's environmental and sustainability practices. She found the whole experience very rewarding.
"It was great," says Emily. "These girls were so interested and motivated to learn about forestry and about what Tolko is doing to ensure sustainability in its forestry practices."
Emily's dad, Leon Medema, also works for Tolko as a Senior GIS Analyst based out of our BC Woodlands Division. As a long-term Tolko employee, Leon says that he's extremely proud of his daughter's accomplishment.
"We, as a family are so proud of Emily. Her hard work, fierce determination, and dedication have led her to this amazing accomplishment. I am privileged to be her parent and honoured to be her co-worker as she moves forward with her studies and her career. It has been amazing to watch her develop her skills through school and through her work at Tolko", says Leon.
Emily plans on using her scholarship funds towards future studies and a school trip to Tanzania in East Africa with 13 other students from UBCO and UBC-Vancouver. Her activities and learnings from the trip will help her earn credits towards her English minor. She adds, "We'll have a chance to do some travel writing, go on a safari, and learn about local literature and culture. I can't wait to go!"
For Emily, the thing she enjoys most about her degree program are the interesting projects that she and her classmates get to work on.
"I recently worked on a project about machine learning. Using Pokemon statistics, we discovered that a Pokemon character is more likely to achieve 'legendary' status if it is genderless," says Emily. We also found that the characters with the lowest attack and defense statistics were more likely to be female, with male characters having the strongest attack and defense statistics. My team concluded that the developers of Pokemon have a gender bias against female characters, even though the gender distribution of Pokemon is quite evenly distributed."
After graduation, Emily says that she would like to take a year off to travel more, and will likely finish a Masters' in Computer and Data Science.
Emily adds, "I'm really excited about my future and I want to thank Tolko for giving me the opportunity to gain such valuable experience over the last couple of years." It looks as though Emily is well on her way to a promising future, and we have no doubt that she will continue in her successes. We look forward to being a part of her journey.