What's a friendly wager between competitors? If you're our High Prairie Division, it's good fun that does good in the community. Recently, High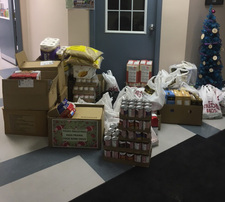 Prairie challenged West Fraser to a friendly Food Bank off. The mill that received the most donations (by weight) won. The second place mill had to wear the colours of the other company. And, well, we don't want to brag, but here's hoping West Fraser looks good in Tolko blue.
Doug Stangier, Plant Manager, thanked everyone at the mill for their efforts saying: "I am proud to say it was the outstanding Tolko High Prairie team that made the larger Food Bank donation.Tolko came in with a donation of 938 pounds, which correlates to approximately $2345.00 of much-needed perishables for the folks who need it most, while our friendly rivals at West Fraser came in at 735 pounds (approximately $1,835.00) of perishables. Lee Barton, Plant Manager from West Fraser will be in touch with me soon to set up a date where he will be given a Tolko shirt to wear for a day at work.
I think it is important to note that the real winners are the less fortunate people who will benefit from such a generous donation in a time when it is so needed.
Once again, thanks to everyone and looking forward to more friendly competitions in the coming New Year and beyond."
Great effort everyone – and watch out West Fraser, 2018 is Tolko's year!