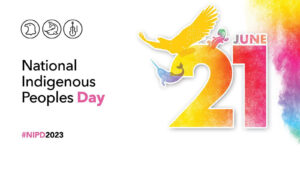 Since 1996, June 21 has been recognized and celebrated across Canada as National Indigenous Peoples Day. Many Indigenous communities have celebrated their history and culture on or around this date for generations. Also known as the summer solstice – the longest day of the year – June 21 is a significant day for cultures around the world. In Canada, it is an opportunity to celebrate the cultural richness, heritage, and contributions of First Nations, Métis, and Inuit Peoples from coast to coast to coast.
Tolko has a longstanding history of working together with the Indigenous Peoples' within the communities in which we operate. Our first corporate Indigenous Policy was developed in 1998 and we have a number of partnerships with Indigenous communities and organizations that date back decades. We have over 50 formal business relationships with Indigenous communities across our western Canadian footprint, including two logging partnerships with First Nations that have been in place over 30 years. Annually, Tolko procures goods and services from over 100 Indigenous businesses and organizations.
"While we are proud of the work that we have done in partnership with Indigenous communities across British Columbia, Alberta, and Saskatchewan – there is always more we can do," says Janis Simpkins, Tolko's VP of Indigenous & Government Relations and Sustainability. "Like everything we do – our work in this space is guided by Tolko's values and will be built upon the pillars of healthy communities, cultural awareness, responsible stewardship and economic reconciliation. What this work looks like in practice will vary from community to community, as there is no one-size-fits-all approach. However, I can say with confidence that we are aligned at the highest levels of this organization in understanding that the future success of our company is tied to the strength of our relationships with the communities where we operate."
Want to learn more about National Indigenous Peoples Day?
• Check out the Government of Canada website.
Want to learn more about Indigenous culture and history?
• Check out Tolko's Indigenous Cultural Awareness e-learning video.