In the spirit of all great scientific partnerships, Watson and Crick, Einstein and Eddington, Curie and Curie, we give you Spruyt and Lamason – two Tolko employees dedicated to helping the young scientists of High Prairie.
Earlier this year, Prairie River Junior High was looking for judges for their upcoming science fair. Never ones to miss out on an opportunity to demonstrate their love of science or to support their local community, Peter Spruyt, Electrician and Clevan Lamason, Process and Technical Coordinator, jumped at the chance to volunteer.
On February 15, Peter and Clevan arrived to see just over 60 experiments on display – the proud work of Grade 8 and 9 students at the school – on everything from renewable insulation, fertilizers, renewable energy, bacteria combating, to how music affects behavior and flight.
For Peter, he was most impressed by the quality and effort put in by the participants. "The fair was an incredible opportunity to see over 60 exhibits put together by some creative, thoughtful, visionary youth," he says. "It was a wonderful experience to hear so many of them thoughtfully, and passionately present their findings. It was amazing to be with other individuals from the community to support our youth. I am so glad to have had this opportunity."
Clevan also enjoyed his time as a judge and says it was an experience to remember. "Interacting with young, energetic, enthusiastic students and seeing their imagination and creativity is a priceless experience," he says. "Science fairs always give me a sense of satisfaction and fulfillment in being able to improve the scientific literacy of so many students willing and eager to learn science. I'm proud that we support such an endeavor and will strongly recommend we continue to support activities like this in our community."
With such enthusiasm, we're sure this won't be the last we hear from our dynamic science duo!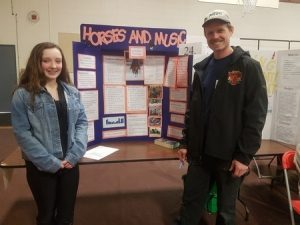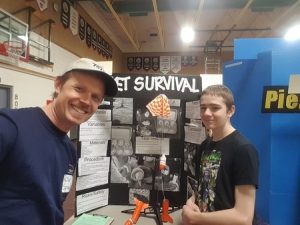 Photos: Clevan Lamason, Process and Technical Coordinator and Peter Spruyt, Electrician, Tolko High Prairie Division with grade 8 students Kaytlin and Keith.