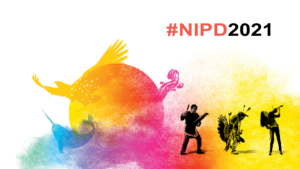 June 21 is National Indigenous Peoples Day. This is a day for all Canadians to recognize and celebrate the unique heritage, diverse cultures, and outstanding contributions of First Nations, Inuit, and Metis peoples. At divisions across Tolko, June 21 was recognized with a variety of celebrations!
Our High Prairie division ordered bannock burgers from a local Indigenous owned restaurant, Kokum's Shack, to for all employees to enjoy.
Tolko's Armstrong Lumber division celebrated Indigenous Peoples Day by supporting a young Indigenous student artist, Lola Lee to create an original piece of art for the Armstrong office. Lola, who is 17, identifies as Secwepmec and lives in Enderby, BC. Read Lola's bio and see her artwork here.
In Athabasca, an Indigenous history exhibit was set up for employees to view while they enjoyed a catered lunch of bannock tacos served by the Native Friendship Center based out of Slave Lake, AB.
Meadow Lake celebrated with an art and cultural display and a lunch of bannock tacos prepared by a local Indigenous caterer for employees to enjoy.
Tolko's High Level Division partnered with the North Peace Tribal Council, High Level Native Friendship Center, and the Town of High Level for their celebration. The day's events included elders sharing stories, traditional Dene Tha' & Little Red River Cree Nation drummers, Metis fiddler Brianna Lizotte, traditional singer Sherryl Sewwpegaham, and an Indigenous craft market. Tolko employees served up bannock burgers and cheese burgers to approximately 350 members of the community.
Our Lavington division has updated their reception area to showcase artwork created by Indigenous youth attending the Okanagan Indian Band Cultural Immersion School. The artwork is themed around the four seasons. The division also made a donation to the school to support their fine arts program.
Visit Tolko's website for more information about the history of Indigenous Peoples or read more about Tolko's Indigenous Partnerships.