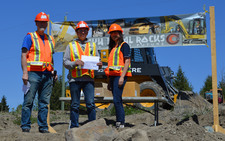 These days the Cariboo is the place to be if you're a student looking to gain hands-on experience operating heavy equipment. For the past three years, Tolko has participated in Heavy Metal Rocks, a School District 27 initiative that offers students from Williams Lake and 100 Mile House supervised, hands-on, experience operating heavy machinery across a variety of industries.
Each year in May, Tolko and other industry leaders bring up to 25 students from grades 11 and 12 together as part of the program. They receive first aid and WHMIS training and then they practice operating equipment from different industries. There is no cost to the students to participate in Heavy Metal Rocks and they emerge from the program with 30 hours of skills training they can use toward their graduation requirements.
The program is growing in popularity with this year's event attracting 32 student applicants 23 of whom were accepted into the program. Woodlands' Phase Logging Manager, Joe Webster, worked with Tolko's Mill management team and contractors to ensure equipment and trainers were on hand for the students' use. Gary Rouse from Tolko's Lakeview division spent four days training students on a 966 loader while HR Manager, Tina O'Neill, assisted SD 27 with participant interviews and subsequently offered training to participants on resume and interview skills.
Tolko is proud to participate in the program and is also pleased to present highest score winner Bailey Weir with a $500 Tolko scholarship for his future studies.
For more information on Heavy Metal Rocks visit: http://www.sd27.bc.ca/heavy-metal-rocks/.