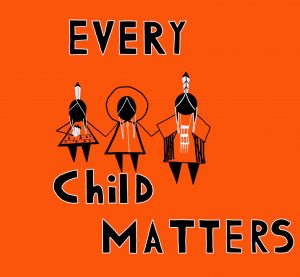 Canada's National Day for Truth and Reconciliation, also known as Orange Shirt Day, is a day to acknowledge the history of residential schools, commemorate the victims, and honour the survivors. Every child matters.
In 2020 Tolko partnered with the Orange Shirt Society to raise awareness about the impact of residential schools and was the sole sponsor of this year's T-shirt design contest for Canadian youth. Shayne Hommy, a Grade 11 First Nation Cree student at South Peace Secondary School in Dawson Creek, submitted the 2021 winning artwork (left). Her design was chosen from entries submitted from across Canada.
She said, "Orange Shirt Day means justice and awareness for Indigenous people. My Moosum (grandfather) attended residential school so it means a lot to me that someone I love and care about so much had to experience residential school. My design is three little Indigenous girls from different tribes, holding hands to represent the unity of our people, (Indigenous peoples) resilience and strength throughout the many years of suffering Indigenous peoples had to face."
Shayne received a $200 prize, and traveled to Mission, BC, to meet Phyllis Webstad on Sept. 30. Andrew de Vries, Manager, Indigenous Opportunities and Government Relations was also there to meet Phyllis and Shayne on behalf of Tolko.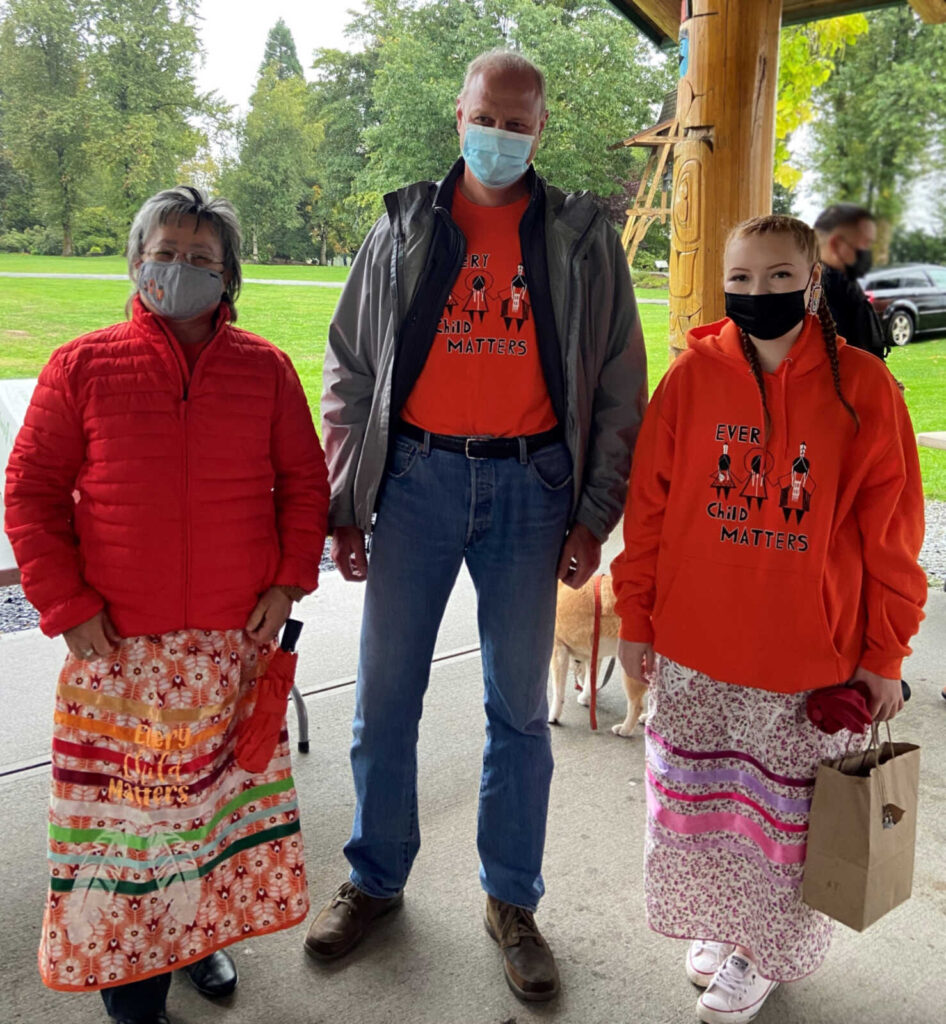 "It is an honour to participate in this year's Orange Shirt Day event with Phyllis and Shayne. Their work helps raise awareness of the impacts of residential schools and the path toward reconciliation," said Andrew.
Phyllis said, "I am so thankful that Tolko has partnered with us to sponsor our annual T-shirt art contest. Because of their sponsorship, Shayne and her mother will come from their home in Dawson Creek and spend the day with me in Mission on September 30, Orange Shirt Day."
"The annual art contest provides students across Canada the opportunity to reflect on Orange Shirt Day and reconciliation," said Brad Thorlakson, President & CEO of Tolko. "I would like to congratulate Shayne on her winning design, demonstrating the unity of Indigenous peoples, especially girls, in the face of adversity."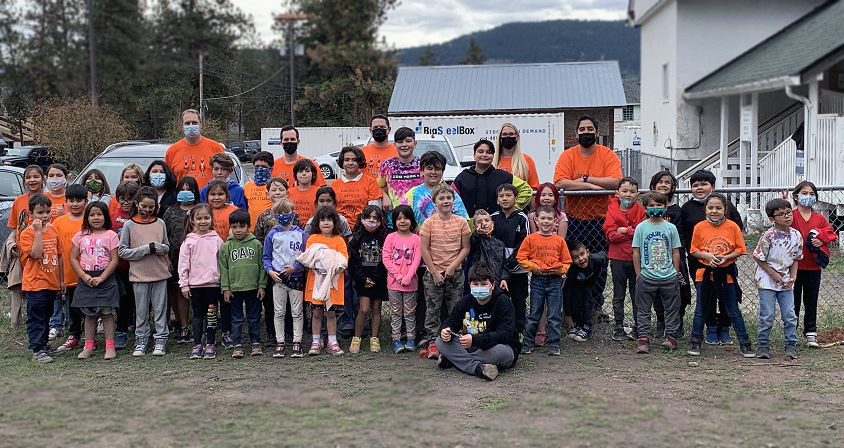 Representatives from Tolko's Lavington Division also visited the Okanagan Indian Band (OKIB) on Sept. 29th to deliver lunch at the Cultural Immersion School and Daycare. The school and daycare opened up again just this week as they were delayed in getting portables in place for some classes.
The Lavington team also presented the OKIB with a $1,500 donation to go towards the Truth and Reconciliation Live Variety Show that was performed at the Vernon Performing Arts Centre Sept. 30th.
#OrangeShirtDay    #EveryChildMatters
More information on Orange Shirt Day:
Orange Shirt Society (August 2021): https://youtu.be/EuW4WbekhxY
Residential Schools in Canada: A Timeline (March 2020): https://youtu.be/VFgNI1lfe0A
What can I do as an individual?
About the Orange Shirt Society
The Orange Shirt Society is a non-profit organization with its home in Williams Lake, BC where Orange Shirt Day began in 2013. The purposes of our society are to support Indian Residential School Reconciliation; to create awareness of the individual, family, and community inter-generational impacts of Indian Residential Schools through Orange Shirt Society activities; and to create awareness of the concept of "Every Child Matters."
About Tolko
Tolko is a leading manufacturer of a wide range of forest products for customers around the world, including lumber, plywood and veneer-oriented strand board co-products, biomass power, and a growing number of specialty wood products. For more than 65 years, our family-owned company has delivered reliability, efficiency, and quality. We hold third-party certification on the forestlands we sustainably manage in British Columbia, Alberta, and Saskatchewan, and we play an active role in the communities where our employees live and work.