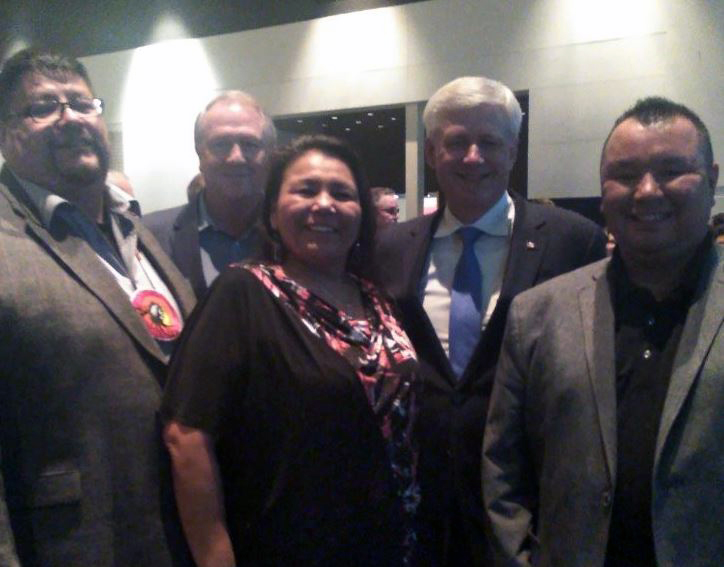 The Alberta Chamber of Resources held its 2019 Annual General Meeting and Award Banquet last month in Edmonton, Alberta. At the conclusion of the AGM, members joined together for an evening awards banquet.
Tolko's Tom Hoffman, Manager of External & Stakeholder Relations attended the event. He had nominated Driftpile First Nation for the Indigenous Resource Leadership Award. The award is presented to an individual, organization, or project that has advanced the relationship between the Indigenous peoples of Alberta and the natural resource sector. Driftpile First Nation is located along the Lesser Slave Lake area in Driftpile, Alberta. Although Driftpile First Nation did not win this year's award, they were very pleased to be nominated for their ongoing efforts.
Tom says, "I believe that The Driftpile Cree Nation and Driftpile First Nation Enterprises Inc. (DFNE) embodies Indigenous resource leadership and was worthy to be nominated for this award. These groups are working closely with industry to create win-win solutions and advancing the interests and involvement of Indigenous communities in the resource sector."
In 2017, Driftpile Cree Nation signed a five-year contract with Tolko to be the prime contractor providing log yard services for Tolko's High Prairie mill yard. This new contract enabled DFNE to establish Driftpile Timber Management expanding their heavy equipment, services, and jobs to further engage in natural resource-related employment. Contractual work includes unloading and decking of wood deliveries, yard maintenance, handling bark and waste and ensuring an uninterrupted feed of logs to the facility.
The DFNE maintains a safety program with a Health and Safety Advisor on staff to assist and promote the program. DFNE staff are trained to complete regular hazard assessments and ensure that safety is a part of daily operations. All workers must comply with safety standards, operating standards, and training requirements. This contract currently employs 25 workers on site running button top loaders and log trucks with additional employment in the yard scale house.
Pictured above are Tolko's Tom Hoffman (rear left) with the Right Honourable Stephen Harper, 22nd Prime Minister of Canada and keynote speaker, (rear right) with Driftpile First Nation Councillors (L-R:) Napoleon Collins, Caroline Isadore-Badger, and Starr Sasakamoose.