Tolko's Armstrong Plywood Division has donated plywood to the Allan Brooks Nature Centre Society (ABNCS) in Vernon, BC to help construct bat boxes. The boxes will be sold to raise funds for the society's educational programs which include topics such as forest habitats.
The bat boxes were constructed through Venture Training, a not-for-profit agency in Vernon that provides adults with developmental disabilities with social, educational and 'hands-on' vocational skill building opportunities.
"Bats are a very important species to our ecosystem, and they're amazing at reducing the mosquito population around peoples' properties", says Jim Popowich, ABNCS Board Chair. "By placing a bat box on your property, you are encouraging them to exist in your area by giving them a safe shelter to roost in. Doing so can also reduce the risk of having bats trying to get into your buildings", says Jim.
These boxes, which can hold hundreds of bats at a time, are used by the female as a maternity roost to give birth and raise their young in the spring, summer, and fall. During the winter, the boxes are used as shelter until the bats migrate or find a cave to hibernate in.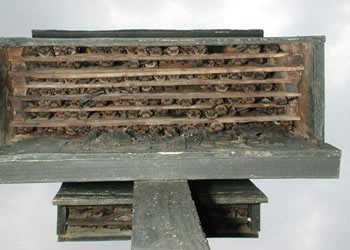 The boxes can be mounted on a building, post or tree and bats enter and exit from the bottom, which is open, so they can easily fly in and out. There are also grooves in the wood, so the bats can "hang" which is how they sleep. Because bats are nocturnal, you can see the bats start to "drop" out of the bottom of the box and fly away at around dusk to start their hunting. 
"Our goal is to further develop the forestry education displays and other programs at Allan Brooks", says Chantelle Adams, Education Program Coordinator at ABNCS. "On behalf of Allan Brooks and Venture Training we thank Tolko for their support on this project."
Top photo:

A completed bat box ready to be installed.
Photo, above left:

A large bat colony in a bat box. The picture is taken from underneath the box, looking up into it. You can see that the bats are all hanging upside down.